Hi Readers! Welcome back to my blog! Are you looking for interesting and happening places or events in Singapore this month? Yes! Singapore Arts Festival is back and it's located at Esplanade Park, starting from 13 May till 5 June 2011.
Thanks to Juliana from URA for inviting me to this special preview of the opening show of the Singapore Arts Festival "When a Gray Taiwanese Cow stretched" and hence, I brought Darren along to this event.

Tagged along with Yong Wei and Angie, we explored the Singapore Arts Festival village and were great to see that they have nice exciting booth set up for public to visit. Well, their festival village setups regain my memories of kampong style in the olden days.

The highlight of event was the performance on "When a Gray Taiwanese Cow Stretched", therefore as time around 7pm, we were told to proceed to the main stage of festival village by walking up the tall olden stair. haha… Nice walking up ya! 😀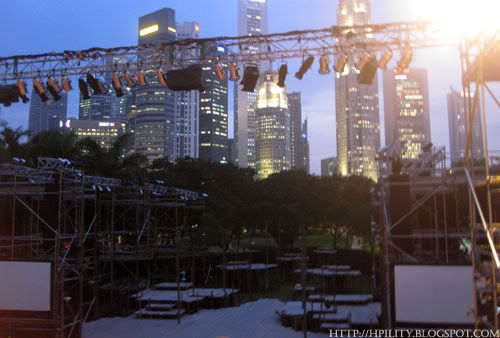 Picture with Angie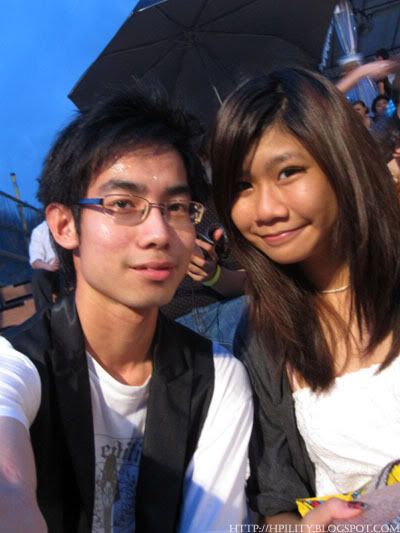 Picture with Darren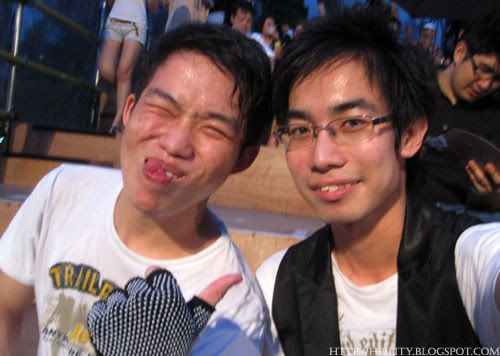 Audience seated at the main stage of Festival Village

"When a Gray Taiwanese Cow stretched" performance started. Yup! My first time experiences see kind of performance on stage. This show came with a series of chapter and each chapter contains a meaningful story behind. I appreciate and enjoy their slow movement and the words they used in this show. Likewise it will be more interesting if you have background knowledge about the Japan culture and history in your mind before watching this performance.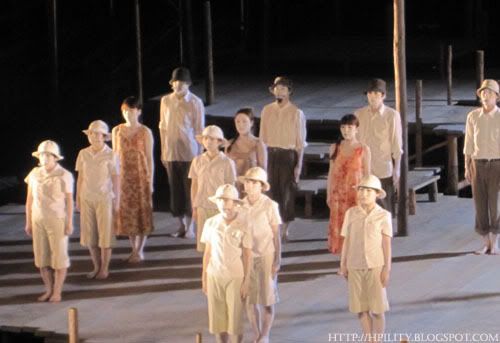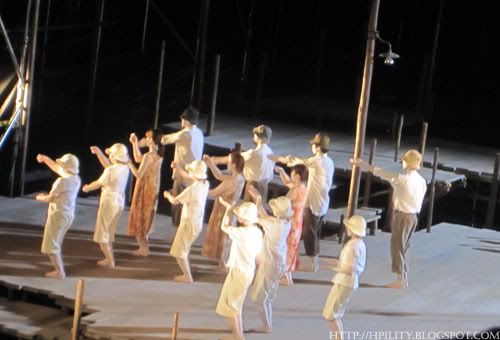 I enjoyed some chapter such as "Okaeri (Welcome Home)", "Road on the Sea", "Power pole", "1942 – 2000" and "Fishing Lamps". Yeah, if you don't understand Japanese word it's ok, because there were translations on the big screen there. hahaha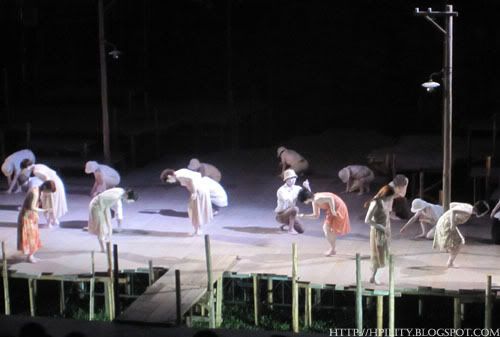 About When a Gray Taiwanese Cow Stretched:
Writer and director Yukichi Matsumoto and his award-winningcompany Ishinha create an epic story about a "Sea Road" linking up the cultural, social and aesthetic histories of the peoples of the islands bordering the Pacific Rim: from the South Sea islands through Southeast Asia up to Taiwan ending in Japan.
This exquisite show will be timed precisely to permeate the spectacular transition between daylight, sunset, dusk and night. Matsumoto wants to create a new form of drama, a drama of the future or 'tomorrow' where the company wants to show things or concepts that are difficult or impossible to represent in terms of shapes.
He said, "as I studied more about the sea and its people, I came to realize that there were more varied peoples and languages than on the main continent: I thought if I made the sea the main stage I could tell a story of Asia no one has done before." [Read More]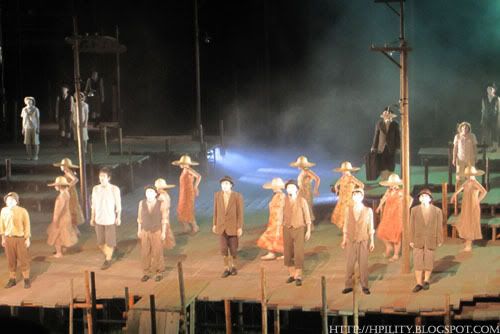 The whole performance took about 2 hours with no intermission. Haha, are you interested to visit the Singapore Arts Festival 2011 now? Visit this website http://www.singaporeartsfest.com to know more information about Singapore Arts Festival 2011!
As I mention in my first paragraph starting from 13th May till 6 June and Yes! I will be visiting the festival village again to take more photos! Stay tune for more exciting picture coming up next! *Smiles*