Sponsored Post

Hi Readers! Welcome back to my blog! It was an amazing warm Saturday last week, attended an awesome event at *Scape the Shine Youth Festival 2011 and I had my fantastic Youth day celebration this year.
Thanks to Nuffnang, Omy.sg and Kitkat for the media invites as well as Panasonic Singapore who sponsored me the Lumix G3 camera to capture the entire nice photo during this Shine Youth Festival 2011 party. Without further do, let's take a scroll at this blog post below.

Woohoo! It's time to make some noise, shine your greatest smile in the air and enough talk, Just Do It! Last Saturday, more than thousand of Youth had Participate in this Shine Youth Festival launch at the heart of town, Scape.
The party started around 2pm, excitement activity such as Beatboxing Workshop, DJ Koflow Turntablism, Magic performance, Flash Mob, Flea market, Pillow fight competition, eating competition, band and dance performance were held for young teenager to showcase their talent to the public. There was no word to describe the surrounding at Scape because each and every hour, there were different activity to show case and it was an eyes-opener to public too.

The official opening ceremony started at 6pm at the Orchard Central whereby Mr Yam Ah Mee, Chief Executive Director of People's Association, was there to flag the Cosmo Youth Parade, marching from Orchard central all the way back to Scape where Shine Youth Festival party held.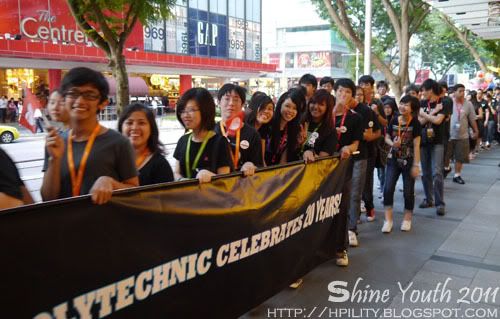 As a part of celebrating NYP 20th Anniversary, NYP had sent around 200 students marching along together with the Cosplay volunteers. Thus, the marching on Mascot Parade includes Guest of Honor, volunteered students and of course the thousands of coolest cosplay volunteers! Check out the mascot here! Have you spotted yourself in the picture? haha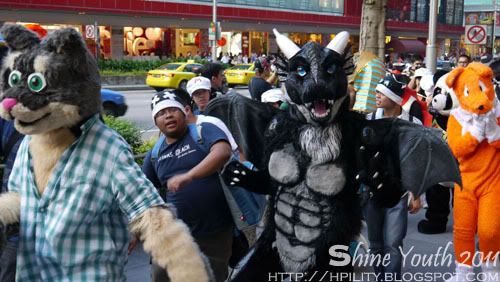 Back to Scape! It wasn't a long distant from orchard central to Scape and I was impressed by those people who dressed up in their mascot suit, walking and waving to the audience. They had put in their effort and interest to transform themselves into their favourite character!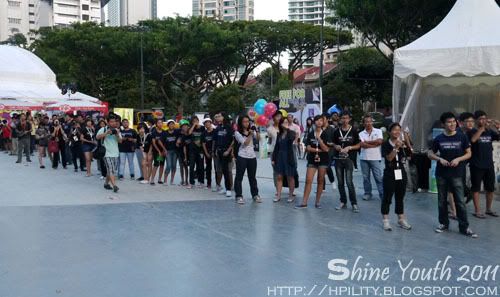 Bear and Rabbit giving a wave and saying HI to everyone!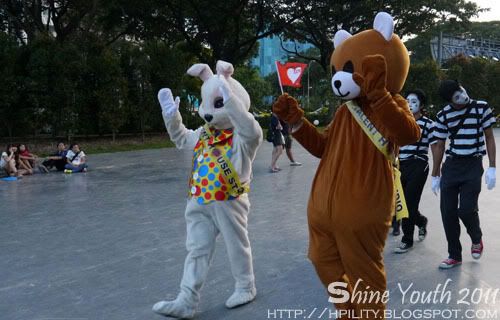 Cute girl! hehehe
Iron-man and Star wars character finding their enemy to fight!
Spiderman and Wonder women!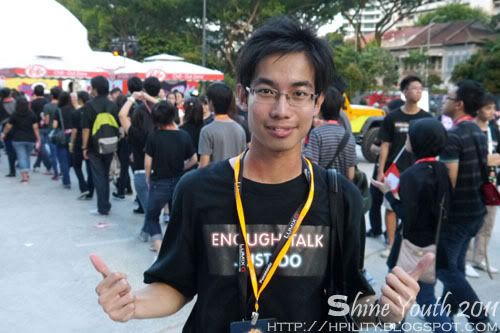 Have you take a kitkat from the gorgeous kitkat ladies? Yup! Nestle Kitkat was one of the sponsor for this shine youth event and they had created this Kitkat chill out cooling zone for everyone to have a break & have a kitkat.

It was a great achievement after covering Shine Youth Festival event! I finally took a picture with MR Yam Ah Mee!!! *Golden Opportunity* lol! This was my first met Mr Yam and he was a very friendly, patient and intelligent guy I knew! Hahaha **

Took pictures with my favourite movie character – Transformer's Bumblebee and Dynasty Three Kingdom Warrior's Guan Yu!!!

NYP in da House! Woot! Great to see my classmate's Justin, Kok Leong, Arif & Desmond participated in this SHINE Youth Festival party too! Hope they had enjoyed the whole event! *Smiles*
Picture with my primary school friend's Janice and her friend's Yinghui

Picture with friends from bloggersphere! Recognized them? Some of them appeared in my blog post before! Haha… They were young and awesome! "Just do" make us "Just Blog" freely in life…! Yay~ hahaha… Below bloggers were William, Sheron, Cynthia, Andy, Jia Hui, Terence and more!!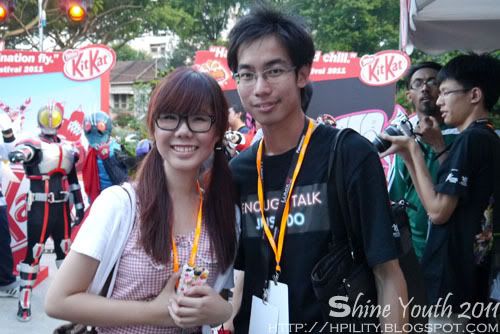 Terence and I took a picture with
Eric and Martin – chairman of Shine Youth Festival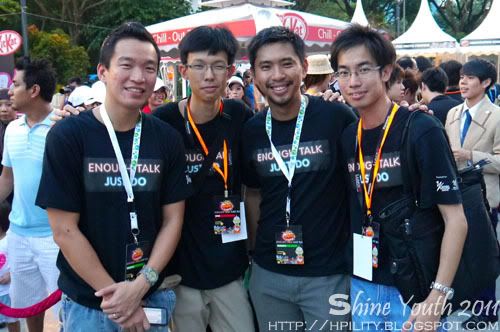 Danial Ong did a great hosting on stage!

It's evening! Guest of Honor Mr Teo Ser Luck, Ministry of Trade and Industry and Mr Yam Ah Mee, Chief Executive Director of People's Association as well as Mr Martin, Chairperson of SHINE 2011 Steering Committee and Mr Koh Peng Keng, Director of National Youth Council was up on stage to launch the opening ceremony.
Presentation of Token of Appreciation to partner

Yeah! Here it is! The Shine Youth concert!! *Get ready to scream* woohoo! It's party time people! In front of stage was crowded with Derrick Hoh fans! lol, I had seen their supportive and craziness throughout the whole concert!

Well, the highlight performances on stage of the day include JuzB, Tay Kewei, Freestyle Dancers from the Big Groove, The Roses, Erick Guansing & Choir, Jack & Rai and of course our talented local superstar male artists Derrick Hoh.
All the artists on stage did their best to showcase to their fans and supporters. I was at the backstage and I can see that some artists actually felt a little kind of nervous before they up on stage to perform but it was a success thing to say that everything went smooth and steady. They were on stage and they had rockz our night!! *Scream*
Got a chance to take a picture with our Minister of State, Mr Teo Ser Luck
While resting at the backstage, took a picture with Danial Ong
Picture with Kewei! Love her self-composed song!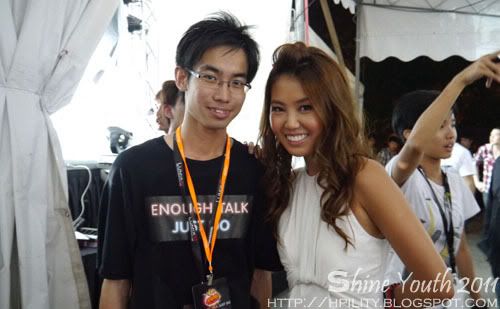 Derrick Hoh! Singapore famous artist!
Group photo of the artists on stage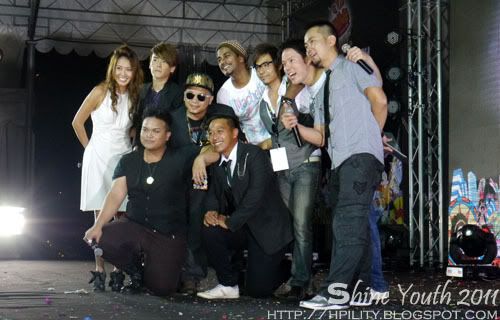 This year, National Youth Council has made a bigger happening of SHINE Youth festival at Scape and the line-up programs were exciting, interesting and surprising! Glad to see so many potential youths and public audience regardless any sex, race, religion and age whereby everyone came down to party as one united part of youths festival in Singapore.
Likewise, to promote more young talent in Singapore, Shine Youth had also given everyone an opportunity to showcase their skills and talents regardless performing and non-performing, as long as 'You want to do, you want to fulfill' then, "Enough Talk, Just do it." SHINE your face and talent to the whole world and tell yourself, you had success it!
Lastly, I want to say that Shine Youth Festival 2011 has ended successfully. I had an enjoyable and memorable moment with my group of young and kind-hearted, passionate bloggers and friends. *Smile*