Hi Readers! Welcome back to my blog! Woohoo… Last week, me and few glitterati plus bloggers went out for an outing at Sentosa Megazip Adventure Park. Yup my twitter did mention about the Fun at Megazip and today going to share with you guys about our FUN happening!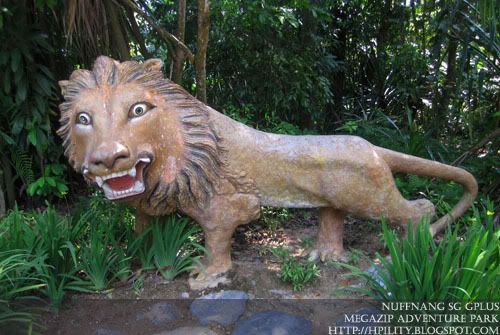 Nice sunny weather chosen of the day, we walked and saw this interesting huge lion while on our way up to Megazip Adventure Park. Few minute later, we finally reached our destination and without further do, keep scrolling down to see the excitement now! *Some of the photo below are contributed by Janessa* Thanks!
Group photo outside Megazip Adventure Park

Sentosa Megazip Adventure Park was a good place to test whether you have Acrophobia (惧高症) and challenge yourself limit in completing all the task given. What to do now? Actually very simple, just follow all the rule given and you will be safe throughout the whole "Journey".

Four different part of activity thus I called them station. There were MegaZip, ClimbMax, ParaJump and NorthFace. Before we got into our four sections, we were told to wear on some safety precautions item as well as listened to the instruction given by the instructor.
Picture with Joanna and Janessa
Picture with Clarence

Are you ready??? Yes!!! *Shout out with confident but in heart swear and curse* lol! From this picture below you see like nothing… yeah, nothing… went up legs shaking like hell! LOL!!! Alright, our first station we choose to challenge was the ClimbMax section.

Instructor giving instruction on how to complete the task. There were total of 3 level for you guys to choose. The higher the level, the distance of height from group higher too. My group (Clarence, Joanna, Janessa, Amanda, Lydia) choose the level 3! omg… Level 3 was like about 40 foot high and it was the ultimate physical challenge!

Kena sabo to go for the first one… Thanks Janessa for taking this nice picture before my legs get shaky.. lol.. Everything ready… Let's do it! hahaha
Climb, Walk, Jump and… Scream!
This stupid station make me hang there for dunno how many minute!! KNS!

Yay! We were back to our origin meeting point! Though this ClimbMax activity, i would say that try to move on and never give up till the end! It will be a great achievement in life if you manage to conquer all the section! For me… I make a great achievement this time, likewise same goes as my team mate!!! *Tears of happiness* Picture with Joanna and Amanda after completed the mission.

Next station we tried was the ParaJump! An amazing view from the parajump leap point where you can see ocean, jungle, beaches and etc.. It held at about 50 foot high. Basically, it allow you to replicate a freefall parachute jump without the plane ride. Fun to the max!
Took a video of our ParaJump! Play and hear the screaming

Third station we tried was the NorthFace, another word 'Rock Climbing'. It was my first time trying out rock climbing in my life and i didn't know where my limits reach till I tried it. Rock climbing needs lots of strength in order to bring you up to the reaching point!
Everyone look like Spiderman now, climbing on top to steal..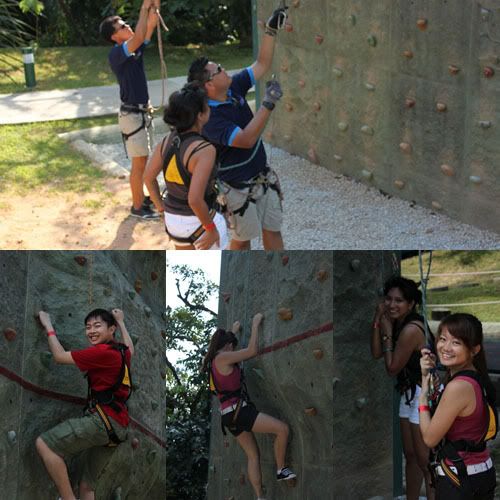 Last station! Megazip!! Flying Fox! Woohoo! Nice scenery you can see at the flying fox view. 75 metres high and 450 meters long to the final destination meeting point. You want to collect back your item? You MUST fly down to the next island!! lol
Joanna and the guide instructor
Took a sunset photo before i fly out of this building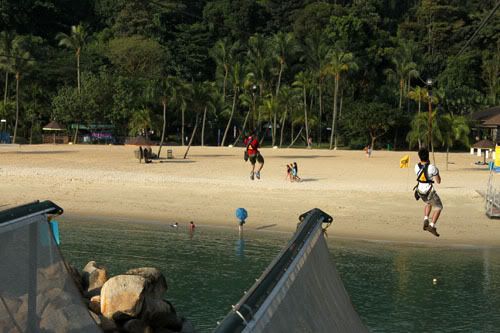 Picture after completed the whole mission

At the end of the day, we were having fun to the max with the Megazip Adventure Park! Thank You Nuffnang for the invitation! Great to shout out that 'we' G+ FINALLY completed the entire mission given!! Horay! Last but not least, took a sunset beach picture before I call it a day.
Everyone should go for a MegaZip AP challenge too, suitable for family and friends outing. Visit this website to know more about the pricing detail as well as MegaZip Adventure Park information: http://www.megazip.com.sg