Hi readers! Its weekdays, back to my studies place again.. Every morning i took either bus or mrt to school. At the same time, i saw many people taking the same way with me.. From monday to friday is just a simple day to me… But it will never be boring!

Sunarti, my classmate who stay at the same area as me. Met her almost every morning at the interchange and we went to school together. Great day came to camwhore mood and sad day came to study test paper on bus..

Introducing Justin and Desmond! 2 good friend who can take in joke with me. Our joke sometime very poisoning.. Is either you pissed (dulan) me or i dulan you only.. haha.. Oh yeah, latest news in class say that i got scandal with Desmond!!! LOL *just having 1 lunch only kena scandal*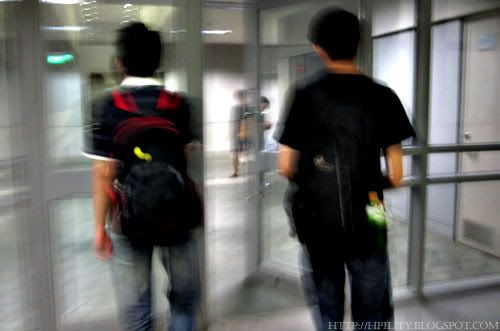 Lecture time, everyone taking out their note and copy… but don't take in so seriously because actually below this picture was showing that they were doing their homework…finishing last minutes.. lols..! Introducing Kok Leong sitting beside Desmond.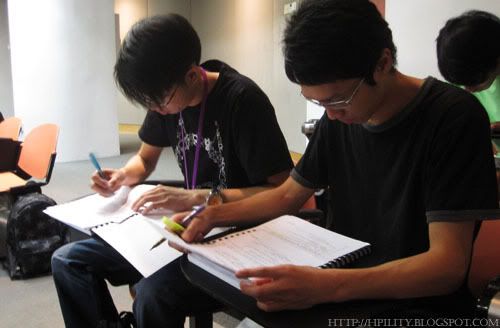 Ei Thu and Justin doing school work.. See how our beloved Justin care for our classmate! haha.. He's really a helpful guy, anyone dunno any question just go ahead and ask him and he will explain to you the answer until you GET IN.

Lunch Time! Its always a great moment having lunch with classmate because this the only time we can relax our brain and feel free to chat. Common question asked everyday: "What to eat" & "What to drink?". *Prefer drinking bubble tea* 🙂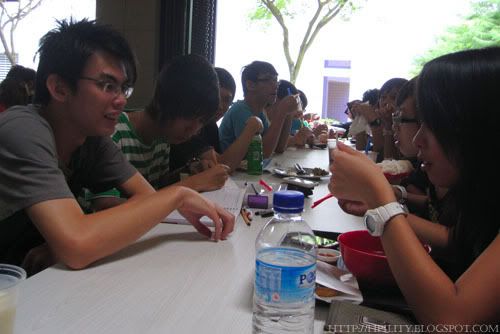 However, it's also nice to went out with group of classmate! *although i miss out alot of class outing due to my busy schedule* haha but i will try my best to join you guys!! (Y) Foodlicious Moments Episode 3 is a review i did it with my classmate. Stay Tune for that post to be publish! ^^
Well, this how my school life is… i dunno whether izzit interesting or boring but somehow i just enjoy it. I enjoy joking in class, taking picture with friends and study!! hahaha.. Afterall, i call it a day and let's look forward to the next day. *Yay*