Sponsored post

Few days back, I was invited to the Pizza Hut's 30th Anniversary media press conference as well as Food Tasting session to try out their new items. But first, did you know that Pizza Hut has been around for 30 years already? Congratulations Pizza Hut! Happy Pizza Hut's 30th Anniversary!!!
Well, to celebrate the 30th Anniversary of Pizza Hut and welcome the new chapter of Pizza Hut's history, they specially prepared a brand new menu, new uniforms and a revamped website. I am impressed by their new website design and after looking through their new menu, the word that comes to mind is "marvelous".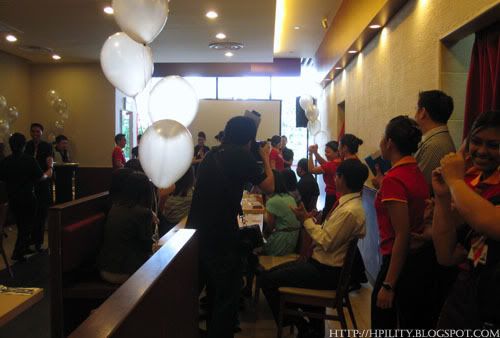 Starting from 11 April 2011, sporting a fresh new look and design, Pizza Hut's restaurant menu will now include 6 new appetisers, 3 new pastas, 6 new Western favourites, 1 baked rice, 2 new pizzas, 5 beverages and 2 new desserts.
Are you ready to see the new delicious food in the menu??? Without further ado, let me now introduce what I ate during the Pizza Hut food tasting session. *Keep on scrolling*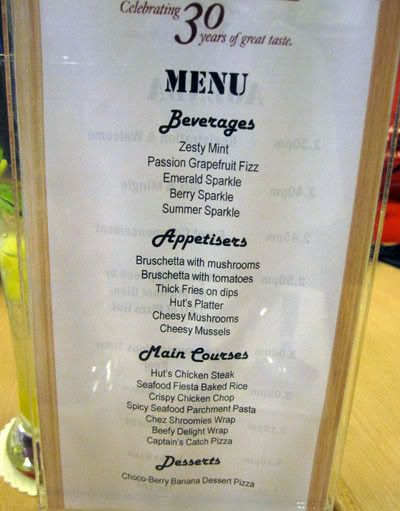 First we had light appetizers which includes Bruschetta with Tomatoes, Bruschetta with mushrooms, Thick Fries on dips, Hut's Platter, Cheesy Mushrooms and Cheesy Mussels.
Out of all these, Cheesy Mushrooms and Cheesy Mussels came out tops for me! Both melted in my mouth immediately, right from the first bite. Yummy!
Bruschetta with Tomatoes, nice golden sliced Bruschetta topped with tiny chopped tomatoes and onions.

Bruschetta with mushroom was dressed with light olive oil and garlic spread, topped with marinated mushrooms and parsley, baked to perfection. The mushrooms were juicy and were not too salty, combining well with the garlic spread.

Thick Fries on Dips came along with salsa and grilled cheese sauce for dips. The texture of the thick fries was soft yet crispy. I would say it is the best thick fries I ever had!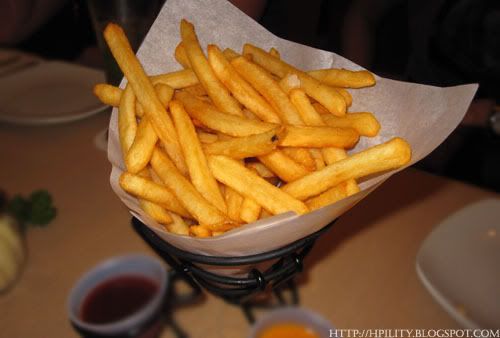 Hut's Platter includes golden tempura prawns, sweet & spicy drumlets, calamari rings and criss cross fries on a bed of mesclun salad. Yup it is one of Pizza Hut's signature dishes!! Must try!

Now, are you a cheese lover? If Yes, here's good news for you! Pizza Hut now serves Cheesy Mushrooms! Fresh button mushrooms in Alfredo sauce baked with mozzarella and parmesan cheese!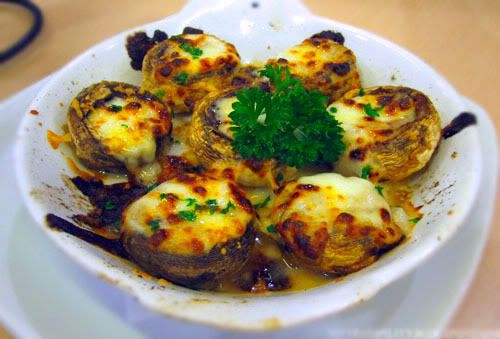 That's not all! There is also Cheesy Mussels to satisfy your craving! Marinated mussel baked with mozzarella, cheddar and parmesan cheese, topped with Alfredo sauce, diced bacon and parsley. Sounds delicious just reading the description!

If you're already salivating, there's more to come! 6 new main courses to fill your stomach! Hut's Chicken Steak, Seafood Fiesta Baked Rice, Crispy Chicken Chop and Cheez Shroomies Wrap are just four of them. You can fill your stomach with their new pastas and pizzas too! Spicy Seafood Parchment Pasta , and Captain's Catch Pizza are two of the new additions. We're all spoilt for choice now.
Seafood Fiesta Baked Rice was inspired by the classic Spanish paella. This baked creation boasts a wonderful line-up of marinated mussels, prawns, squid rings, pilaf rice in salsa sauce topped with melted mozzarella cheese. The baked rice was a little spicy so it's perfect for people wants a twist to their usual seafood flavor. Surprisingly, the seafood taste wasn't too overpowering and I was able to enjoy the spread of seafood ingredients without being overwhelmed.

Hut's Chicken Steak was one of my favourite main courses. Reason being the grilled meat is really tender and juicy! I don't mind eating it again and again! 🙂

Crispy Chicken Chop – came with thick fries, fresh veggies and salsa sauce. The juice of the chicken was sealed in with the crispy chicken skin. I'm not sure what herbs Pizza Hut used but I could taste a distinctive flavor from the skin. I love that it wasn't oily!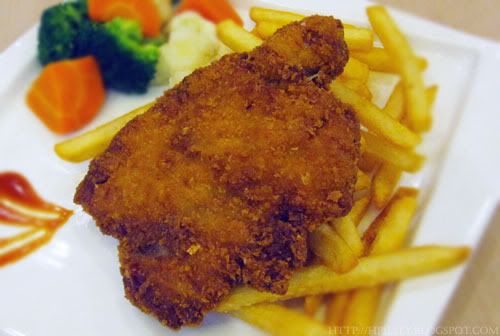 Spicy Seafood Parchment Pasta was one of the spicy dishes of the day. The fresh mussels, prawns and squid rings combine perfectly with spicy tomato-based sauce. If you are a spicy food lover, I am sure you will like this! 🙂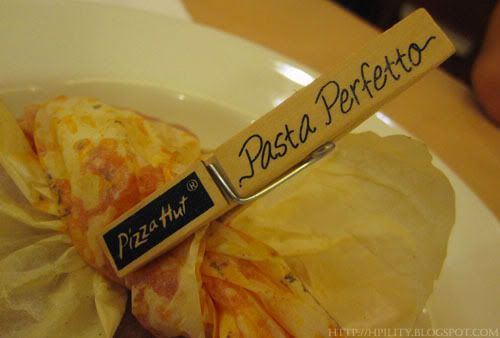 Cheez Shroomies Wrap is made for cheese lovers. The tortilla wrap is filled with marinated button mushrooms, onion and garlic and dressed with grilled cheese sauce and mozzarella cheese. It is served with criss cross fries and mesclun salad on the side. Not only that, it comes in two other flavours as well! There's New Orleans Chicken Wrap and Beefy Delight Wrap!

And of course at Pizza Hut, you should order Pizzas! Here comes the new pizza, Captain's Catch Pizza, also known as Fish 'N' Chips Pizza. You'll be surprised at how amazing the fried fish bites with sour cream and onion potato chips taste in this flavourful fusion.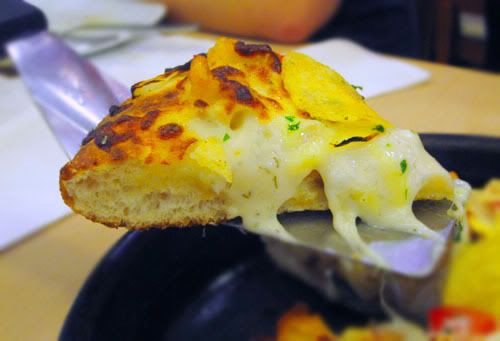 After having the appetizer and main course, how can we forget the all important dessert? Yes! One of my favourite new desserts from Pizza Hut is the Choco-berry Banana Dessert Pizza! It is the prefect sweet treat that combines fresh bananas with a crispy thin pizza base, generously topped with strawberries and chocolate sauce. I bet you will definitely like this too!

I have a delightful meal at Pizza Hut and it's awesome to say that all the food from Pizza Hut taste really great! Never regret trying out their new foods too! Haha… Last but not least, I hope you guys had enjoyed reading it and remember to visit Pizza Hut to try out their latest in the new menu!