OCBC launch their first biometric authentication on OCBC Mobile Banking App to allowing you accessing your bank accounts conveniently by just a touch. OCBC OneTouch leverages on Apple's Touch ID to allow customers easy and quick access to their bank balances using fingerprint recognition.
This technology enhances the customers experience for mobile banking users by making it easier and quicker for them to check bank balances.
This service is available for iOS devices that incorporate Apple's Touch ID fingerprint sensors. Therefore, customers using mobile devices such as iPhone 5S, iPhone 6 or iPhone 6 Plus, with iOS 8 operating system can use OCBC OneTouch™ to access their banking information.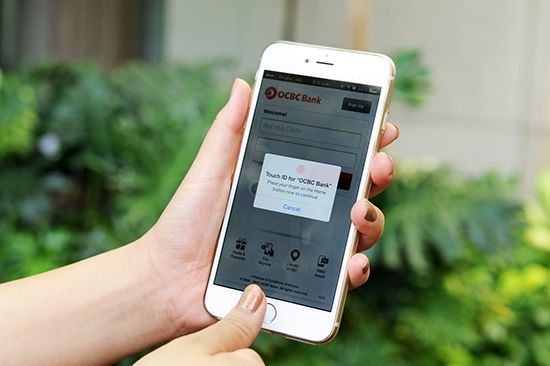 1. To get started, customers need to perform a one-time activation by keying in their OCBC Mobile Banking access code and PIN.
2. Thereafter, within the Mobile Banking app, customers only need to place their finger on the home button to view their account balances.
3. All account numbers displayed are partially masked with only the last 4 digits of the account number revealed.
4. The bank does not store any account numbers, balances or other related information on the phone.
5. Should the customers wish to perform banking transactions other than balance enquiry, they have the option of logging into Mobile Banking using access code and PIN.