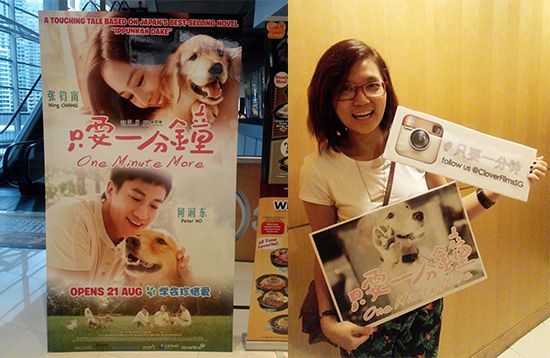 One Minute More (只要一分钟) Movie Review:
只要一分钟‬ is a Taiwanese movie filled with scenes thats bound to make you cry, or if not, tear.
Based on Japan's best- selling novel "Ippunkan Dake". Career minded fashion editor Wan-Chen is fully dedicated to work while her boyfriend Hao-Chieh's career takes a back seat. The couple's lifestyle changed tremendously when Wan-Chen brings home a 4- month old Golden Retriever, Lila. The increase pressure at work coupled with Wan-Chen's promotion caused much tension between the couple and Hao-Chieh chooses to leave.
Just as Wan-Chen is one step away from her dream promotion, Lila is suddenly diagnosed with cancer and requires Wan-Chen's undivided attention. Wan-Chen faces the dilemma of choosing between her fur-friend and her life-long dream of being at the top of the corporate ladder.
For me, I rarely watch movies with animals it in such as Marley and Me and 10 promises to my dog for one simple reason, ITS SO TOUCHING. TOO TOUCHING. One takeaway from the movie, dogs are truly, men best friend. They don't judge nor forsake you even when you have no time for them. All they want is for you to love them as much as they love you. Although, they do not know how to express it with words, but they are ALWAYS there.
Treasure your animals people! I'd totally recommend kids, teens, adults and even ah-gong and ah-ma to watch this beautiful show. Exclusively showing at Cathay Cineplex.