23/06/09
Tuesday
Nuffnang SRFPJS part 3
Part3- Pajamas Party @ The Arena! (Full Version)
Hello people! welcome back again! haha…been busying editing this event photo and till here, today the last part of nuffnang singapore river festival and pajamas party event. By looking through part 1 and 2, we can see that bloggers and nuffies are enjoying throughout the event…Likewise, here come my part 3 on bloggers nuffies clubbing!
Continue from yesterday blog post…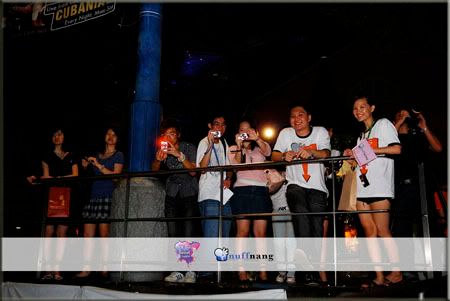 After the ducktours…we were back to 'island'…waiting for other group to reach the island and moving on to the next event which was Pajamas party!!! Yea…! Photo taking first before we move on..haha…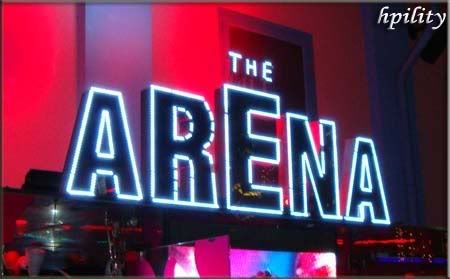 We are ahead-ing to arena…Well, this my first time entering to arena likewise same goes to my other member…lols, IC checked, entered and here we go…At first, due to my group got quite a number of under-age member…therefore, Me and weijie together wif joyce went in first…look around and find seat for the other too…Soon later, Jiaqi,Kaixin,maiko and cheryl went in…Left yingzi,don,meldric and his friends outside…However, i told them wait outside first cos we planning how to rescue them in. *Stun*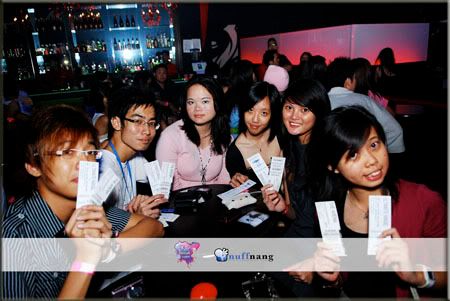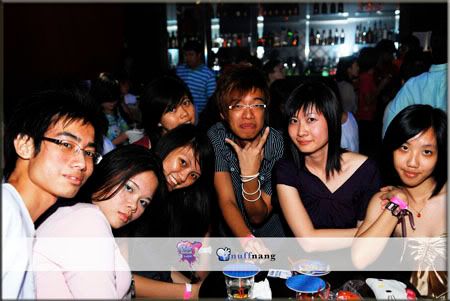 Ordered some drinks first and soon later nuffies came in…lols, they spotted me not in pajamas!!! owned…~ *i tot can HIDE away from them* cos i lazy to change to pajamas…Few min later, Nath,JC,Cheryl..bleah bleah say "EH HP Y ARE U NOT IN PAJAMAS"!!! LOL…
Alright…15min past, me and weijie went out to rescue Meldric in…However the proceed was success! *cant tell u all the trick* haha…So i went in planning to take my pajamas this time and and change by nobody seeing it…Happily walked out the EXIT entrance and !!!!!! Somehow dunno why…i saw 5 nuffies girl standing just infront of me….*Eyes roll*..! kena spotted by raine about my "flowery pjs" *so peiseh sia* lols…Anyway, we went in and party start!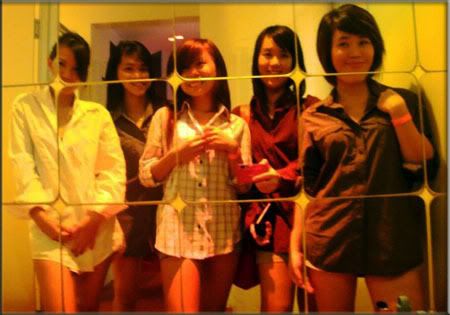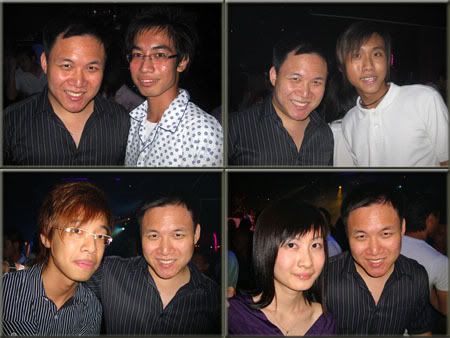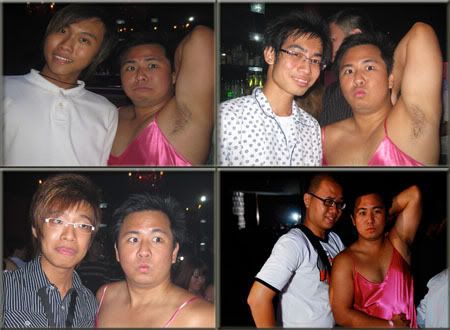 Drank Chat and took photo everywhere…middle of time, i bring my group member go on Dance floor! lols, Everyone turn into dancer once they stepped onto the dance floor…*Getting High* haha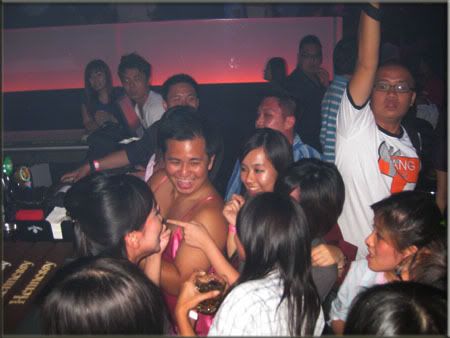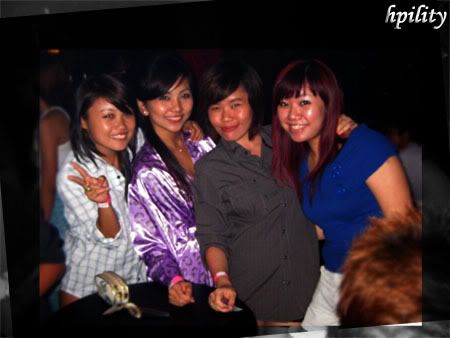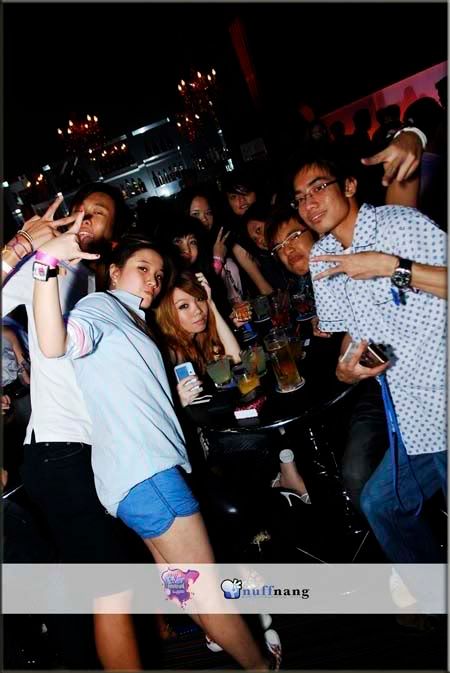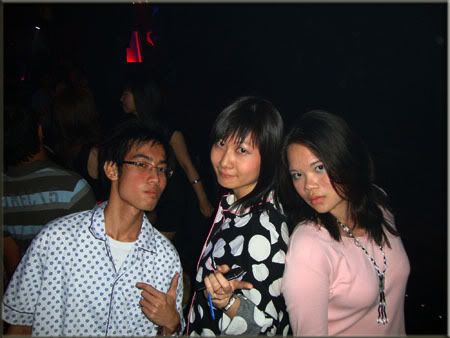 Dancing for about 20min…went back to seat, ordered drink again…bleah bleah bleah….and starting with a small wine cheers! I shouted to my member and tell them to cheers for nuffnang! By Shouting the word "Nuffnang yumseng"! Nuffnang co-founder boss ming join in the fun too! haha…We were too high till other group keep looking at us! haha… *enjoy the picture below*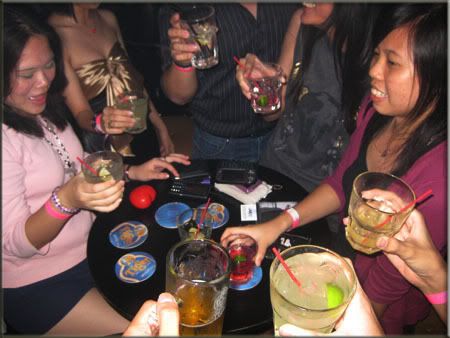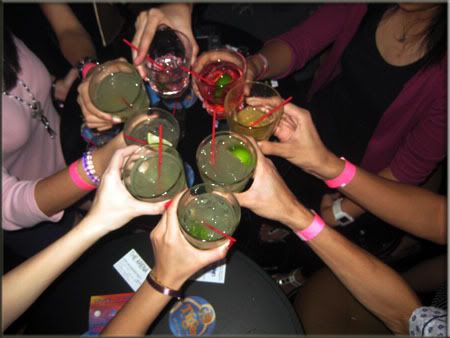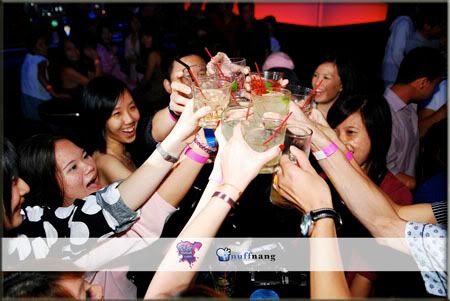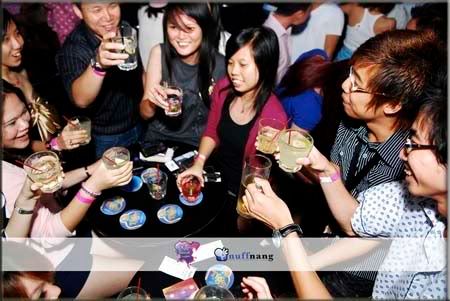 Overall, this event end at 12.30am…my group together with kaizhi took our things and on the way out…and of cos…We took a last Group picture before we leave clarke quay arena! dont worry, even last group picture, we also got around 10-13 people! Took taxi back with Kaizhi,Cheryl and yingzi…and the price came out $39.30!!! wa kao! pok liao lor..hahaha
Well, here come to the end of my final part 3. I hope you guy had enjoy reading and viewing it…People who attended this event really enjoy themselves too! Nuffnang did a great event this time,compare to flash mob! haha…Success! For your more info…Some of purple group member feedback to me said that 'they would like to attend nuffnang event in future'!
Tats all for today…
Thank for your reading and viewing! xD
[Do Tag or Comment before you leave this blog]