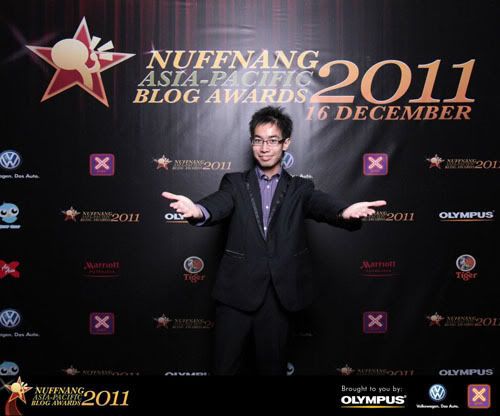 Story of my Nuffnang trip tour journey started with few days back which was on 16th December 2011, Friday. I had a good sleep a day before and woke up with my excited feeling in it. By then, the time was about 6.30am; I packed my travel stuff and get ready to step out of my house and on my way to Nuffnang office to gather with the rest of the bloggers.
About 40 minutes later, I reached Nuffnang office. It was an early windy morning where everyone has putted on their pretty smile with their sleepy eyes. Glad to see many familiar bloggers faces lined up along outside the office, waiting for their registration and getting ready to set off on coach.


We were on the coach, sitting on the comfortable chair and enjoying the air-con provided for us. Nevertheless, my soul enhanced with a high-spirited of energy and I am feeling very extremely excited all along during the journey to the Singapore custom point at Tuas because this was my first time in my life stepping out of Singapore!
After checking in the Tuas check point, we were officially on our way to Malaysia. I tried my very best not to sleep during the journey, taking up chances to take photos on the surrounding of highway and at the same time chatting with the bloggers around me.


It was a faraway journey to reach our destination in Malaysia Kuala Lumpur. Hence, we came to our first resting point at 'Yong Peng' and were told to have our lunch given within a short time and also bought some necessary stuff back on coach.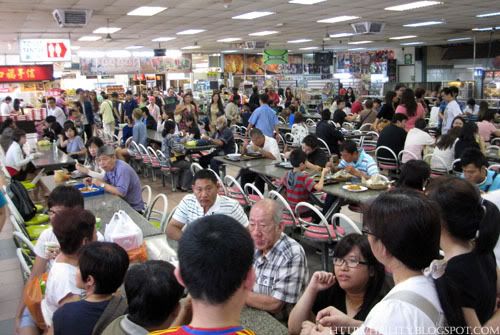 Awhile later, the coach continues moving… The beautiful blue sky slowly covered by lots of dark cloud and soon later it rain. This was the time where many of my coach members (including myself) went into sleep mode with their ear plugged on with some music. However, the rain does not last long and we came into our second resting place.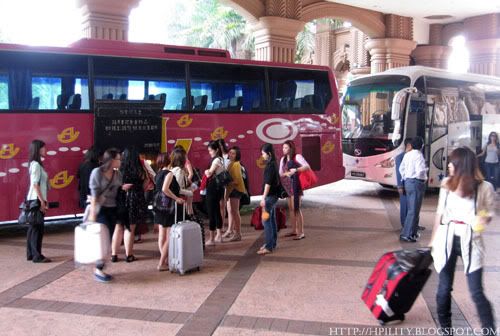 Its 6 hours long distance journey for us to reach the Putrajaya Marriott hotel located at Kuala Lumpur, Malaysia. I could shout out that "We Finally Reach!!!" Everyone alighted their coach, carried back their luggage travel bags and waiting for the checking in of the hotel.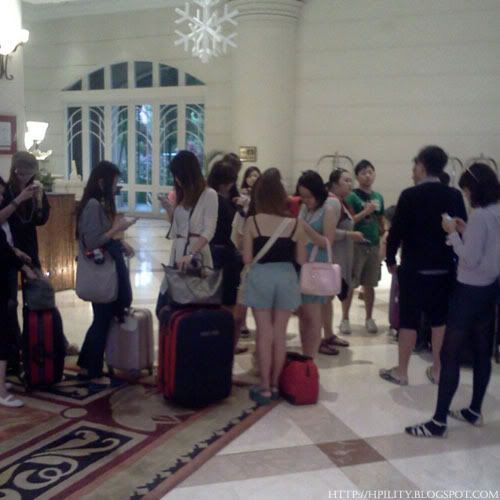 While waiting for my turn to check in, I walked around and took a few photo of the Putrajaya Marriott hotel surrounding and one decoration design caught my eyes attention was the fancy and elegant water fountain. Likewise, with the Christmas season going on, interior of the Marriott hotel was filled up with Shinning and white glowing Xmas decoration.


Yay! Checked IN! My roommate partner was Clarence and we were moving into our Palace Suite at room 512. *Door open* *Stepped in* Saw a huge soft and comfortable bed in front of us, beside that, there were sofa; a presidential seat and a sensational widely view through outside the window. I can see the full garden and swimming pool right below our room and seeing far distance scenery away from my room. Thank you Nuffnang for giving us the excellent package stay for this 3 day.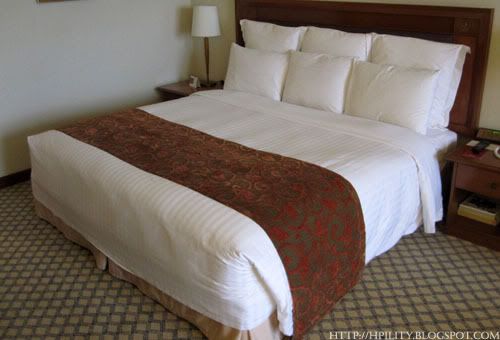 Time was rushing us for the next preparation for the Nuffnang Blog Awards 2011 Ceremony. We were told to be prepared and meet at the hotel lobby or awards ceremony held area at 7pm. The time had boost up my excitement to meet all my Malaysian friendly bloggers!!! *I feel like screaming it*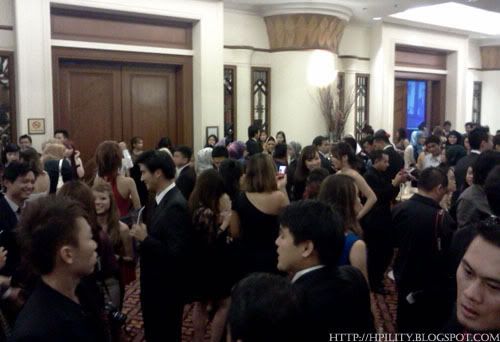 Yeah! Here is it! I on my way from my hotel room down to lobby and walking toward the Grand Ballroom of Marriott Hotel. Guess what! First Malaysian friend I met was Dusty!! OMG… It been a long time since our last meet in Singapore and on the award ceremony itself, it was my pleasure to meet him again. We gave each a warm hug as a big welcome and proceed on to meet more Malaysian bloggers.


Time around 7pm, Clarence and I arrived outside the hotel ballroom. it was a memorable moment meeting up with my Malaysian bloggers friends and talking up pictures with them. I set a target to know as many bloggers as I can on that night because I don't know when I am going to see them again. Thus, here were some of the awesome bloggers I met with them as in we usually chat through online… Jackie, Issac, Benjamin, Jiayeen, Ken, Beautifulnara and more…!


Of course not to forget the Singapore Bloggers on my side! Everyone came down to the hotel ballroom in their smartest and glamorous dress, gorgeous and charming faces all over the places. We waited for the registration to start, took quite a few memorable shot at the wall photos and time passed without our noticing, we had came to enter the ballroom of the awards ceremony.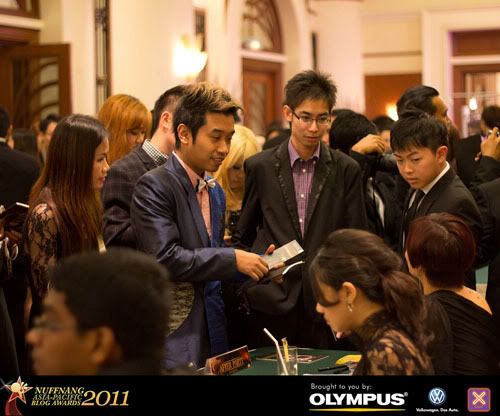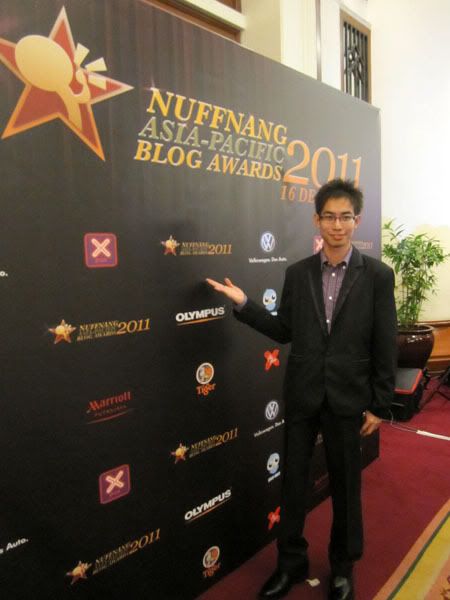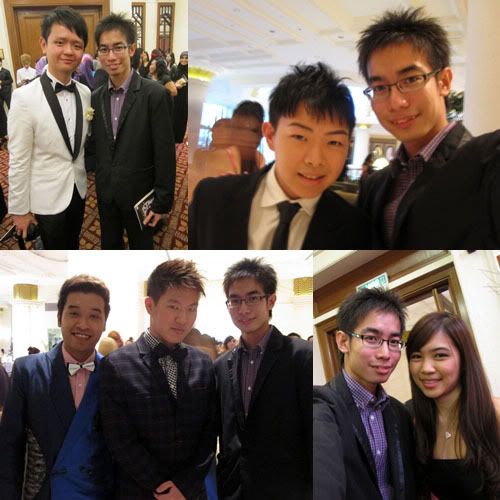 I got surprised by its grand ballroom decoration; I was like "OMG!" "This is awesome", "it giving me concerts feels"… I walked slowly along the red carpet, enjoying the elegant and exquisite surrounding moment before proceeding to my table 35.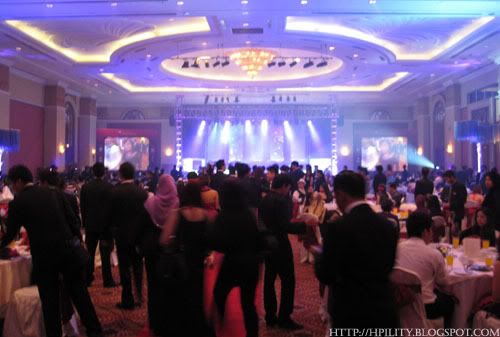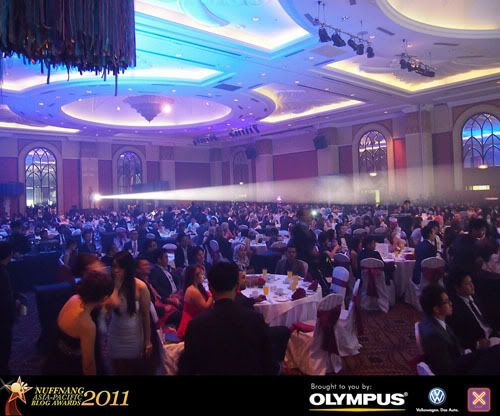 Woot! Table 35! Consists of 1 Male and 8 Female and I am the 1 Male! LOL! There were: Michelle (Enthusiastic Blogger), Rachel (Long Term G+ Member), XueLing (Enthusiastic Blogger), PeiShi (Youngest Blogger), Samantha (Famous in TP), Jaslyn (Enthusiastic Blogger), Silver Ang (Famous SG Actress) and Joyce (Famous SG Cosplayer). *All the Celebrity on my table* Hahaha…


Here it's time to start the Nuffnang Blog Awards ceremony 2011. The host on stage did their great job to entertain and get attention from the audience seated down below the stage.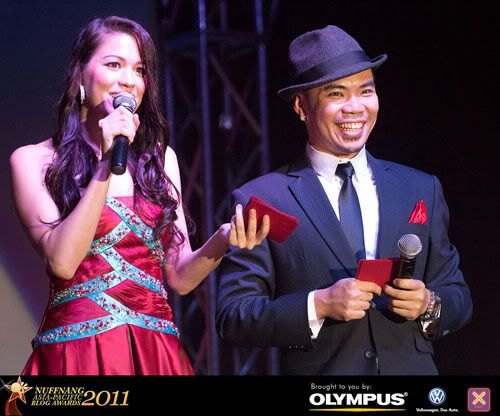 Awards Ceremony started with commences, a fabulous welcome speech given by Co-Founders of Nuffnang (Timothy and Ming).


An award was given out to the winner at different timing scheduled. Our dinner meal was served up; bloggers can't wait to take pictures with their foods on the table. First on stage performing was James Baum and Reshmonu, followed by the standup comedy – Harith Iskandar and lastly Viva Circus.


Time for me to unveil the Nuffnang Blog Awards Winners of the year 2011:
Best Hidden Gem Blog: http://googlygooeys.com
Best Lifestyle Blog: http://jenniepperson.com
Best Parenting Blog: http://childhood101.com
Best Geek Blog: http://geekout.ph
Best Photography Blog: http://photoblog.hk
Best Fashion Blog: http://cheeserland.com
Best Travel Blog: http://justwandering.org
Best Food Blog: http://ladyironchef.com
Best Entertainment Blog: http://beautifulnara.com
Best Most Original Blog Design: http://eatshowandtell.com
Best Micro Blog: http://twitter.com/kennysia
Most Influential Blog: http://xiaxue.blogspot.com
Region's Best Blog: http://xiaxue.blogspot.com
Xiaxue won grand winner of the night!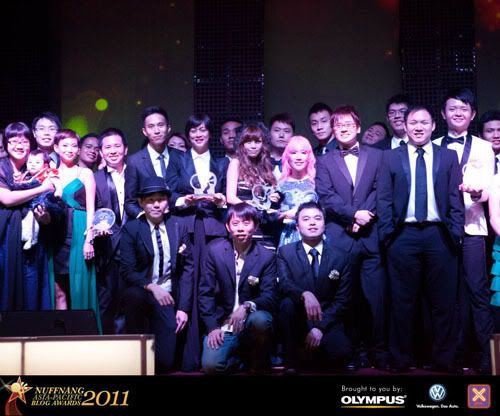 After 3 hours past, it has come to the end of Blog Awards Ceremony. Everyone walked out of the hotel ballroom with their great smile and back to their designated place and guess what next? Yes! It's after-party at Zouk Club KL!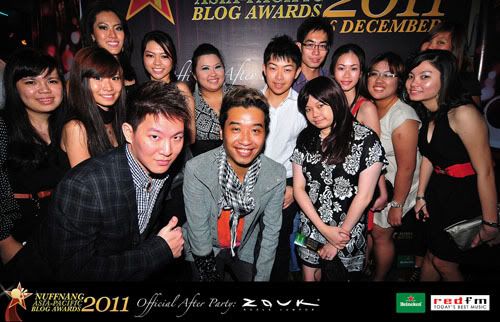 We arrived at the Zouk about midnight after 12am; it was super crowded moment while queuing into the Zouk Club. It was my happening and exciting night mingles up with group of friends, chilling out and drinking with them.
Time about 2.30am, we got on our coach and back to our hotel. Through this trip, it won't be as lively as it is without group of friends joining in along! Woohoo… Without further do, I shall end my #NAPBAS Day 1 trip here… Soon later I will be posting up my experience on the #Napbas Day 2 Trip! Stay Tune Readers! *Smiles*