Sponsored Post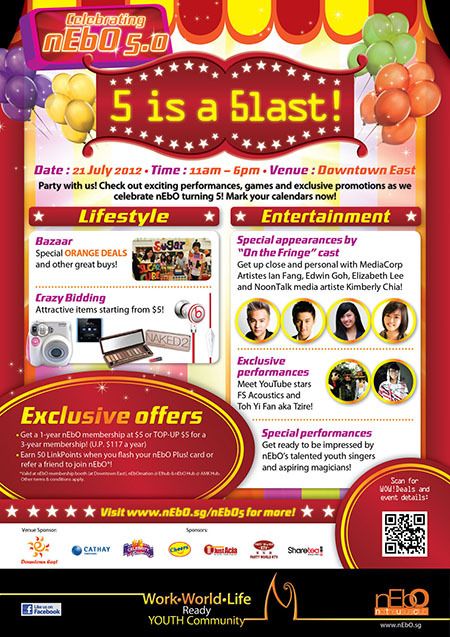 Hi Readers! It's nEbO's 5th birthday! Happy Birthday to nEbO!! Today going to share with you peoples an exciting event coming up this Saturday (21st July 2012) weekend at Downtown East from 11am to 6pm. Hence, this event also known as '5 is a blast!' to celebrate nEbO 5th anniversary.
About 5 is a blast:
2012 marks the year that nEbO turns 5, and their birthday theme is called Celebrating nEbO5.0. On this coming 21st July, nEbO will be having their 5 is a Blast! birthday bash at Downtown East. Throughout the day there will be various activities happening in the Alley and Events Square of Downtown East.
The highlights programs of this happening event on Saturday:
– Stage games and activities
– Special Orange Deals (From 11am to 6pm, Bazaar by Ngee Ann Poly
will have live performances as well as mini lucky draws)
– Crazy Bidding!
Bid the attractive item starting at $5!
The bid items include: Urban Decay Naked Palette 2, Fujifilm Instax Mini Polaroid Camera and more!!!
– Next, the appearances by "On the Fringe" cast will be there too!
And finally…
– Performances by YouTube stars FS Acoustics and Toh Yi Fan and also
Performances by nEbO's talented youth singers and aspiring magicians
An exclusive promotion to sign up as nEbO member is here! You people who sign up at the counters on that day and quoted with my promo code "Hpility"/"Hp" will be given an extra goodie bag only available on 21st July! Hurry go and sign up now! Hence you will get a 1-year nEbO membership at $5 or TOP-UP $5 for a 3-year membership (U.P. $117 a year).
I repeat myself again!!!
Here is the promo code: [Hpility]/[Hp]

Last but not least, I hope you guys have a wonderful celebration with nEbO's 5th Birthday at Downtown East this Saturday, 21st July! For more event information do visit http://www.nebo.sg/nEbO5/5isablast/
About nEbO:
nEbO is the junior membership arm of the Labour Movement – NTUC. A lifestyle membership club for the youths by the youths, nEbO aims to actively reach out to socially engage our youths, who will form the future workforce of Singapore.