Sponsored Post

Make it Right for a Better Ride! Hi Readers, How's your ride in Singapore? Today, I will be reviewing 25 creative ways of saying "Make it Right for a Better Ride" through these posters and at the same time also share about my views and experiences toward the MRT rides.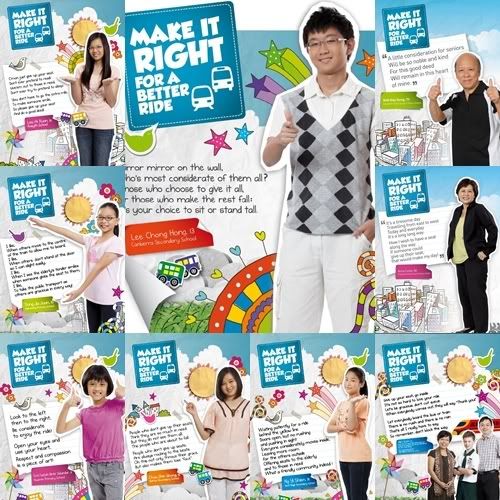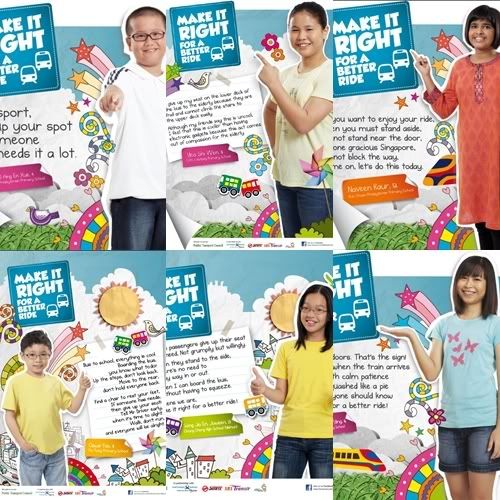 After looking through the posters featuring winners of the 'Make it Right for a Better Ride' contest, calligraphers and senior citizens, I would like to say that regardless of age, race and gender, these contributors had expressed the graciousness message well to all the commuters.
The phrases and sentences are presented by way of poems, slogans and calligraphies penned by fellow commuters on how to make our journey more pleasant by being gracious. In my own opinion, I think that this is a meaningful and easy-to-understand method of delivering the messages to commuters.
Having said that, I must share the experiences of my own MRT rides. Well, there are certainly positive and negative experiences! I take the MRT train almost every day. Everytime on board the train, the first thing I look out for would be the elderly, people with disabilities and pregnant ladies before I proceed to take my seat. However, I do observe that nowadays commuters are more proactive in giving up giving up priority seats to another person who really needs it.

The MRT system has been very useful in the sense that it helps me to get to my destinations on time. It's a plus point for me that Singapore is well-connected and accessibility is good from one place to another. All in all, I also feel safe and secure throughout my train journey and it brightens my day whenever I see friendly smiles from fellow commuters!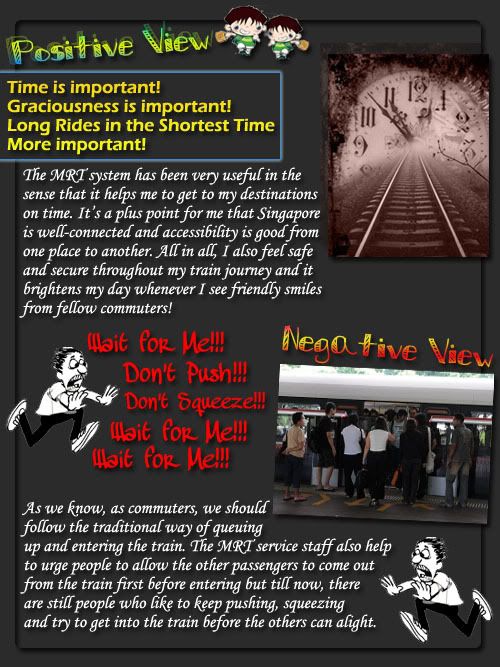 The not-so-good experiences – As we know, as commuters, we should follow the traditional way of queuing up and entering the train. The MRT service staff also helps to urge people to allow the other passengers to come out from the train first before entering but till now, there are still people who like to keep pushing, squeezing and try to get into the train before the others can alight. *This is terrible!*
One good way for people to get a more pleasant ride is to plan their trip earlier so as to avoid the peak hour crowd. You guys may want to check out this website which shows you the volume of commuter traffic at different MRT Stations at different times.
Another type of discourteous behavior I encounter during the non-peak hours, some commuters like to put their stuff (eg. bag) on the empty seat beside them and as a result, the other commuters cannot take up that free seat and some may have to stand throughout his whole journey because of that. If you encounter such people in future, don't feel shy to ask these people to move their things away so that you can have the seat!

I'm sure all our rides can be made better if more people can be more gracious when travelling on public transport. I think everyone should do their part by being kind and courteous toward the elderly and needy on the trains and buses.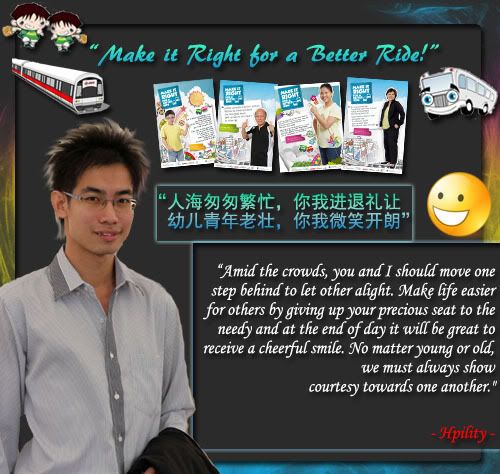 With this, I would like to use 4 Chinese sentence phrases "人海匆匆繁忙,你我进退礼让,幼儿青年老壮,你我微笑开朗" to influence my readers here! – The message I want to deliver is:
"Amid the crowds, you and I should move one step behind to let other alight. Make life easier for others by giving up your precious seat to the needy and at the end of day it will be great to receive a cheerful smile. No matter young or old, we must always show courtesy towards one another."
Life is full of choices, you have to make the right choice. We can make a choice to bring happiness to others. Kindness begets kindness! To conclude, it's time to "Make it Right for a Better Ride!"
Want to do your part? "Make It Right For A Better Ride" Twitter contest is now open from 8th to 28th March 2012! Stand to win a pair of movie tickets by tweeting your favourite message from these posters. More details: http://on.fb.me/betterride