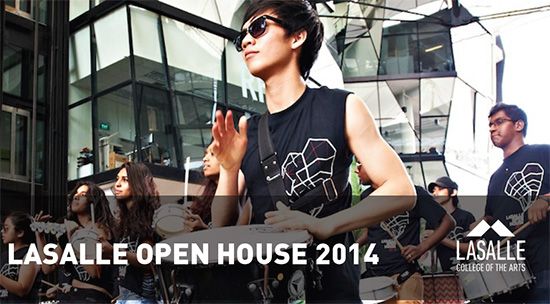 You're young, you're creative, and you're bubbling over with creative energy… If you love the arts and want to learn how to earn a living doing what you enjoy most, visit the LASALLE Open House 2014 on 17 & 18 January, from 11am to 5pm!
Immerse yourself in the spirit of creative collision that is embedded in all of LASALLE's artistic programmes, from Design to Fine Arts, Fashion to Animation, Broadcast Media to Theatre and much more! Benefit from a full suite of learning opportunities ranging from Dance, Music, and Film to Arts Management. Meet some of our famed alumni members, current students and our very own Programme Leaders to find out why there is no better place to kickstart your future in the Arts!
If you've been looking for the chance to step into the limelight and become a part of the creative industries, look no further, LASALLE HAS IT! Early bird goodie bags await you. Application fees will be waived on Open House. For details, please contact LASALLE Admissions.
Date & Time:
Fri 17 Jan 2014 – Sat 18 Jan 2014
11am – 5pm
Venue:
LASALLE College of the Arts
1 McNally Street
Singapore 187940
Contact:
LASALLE Admissions
admissions@lasalle.edu.sg
+65 6496 5111