Advertorial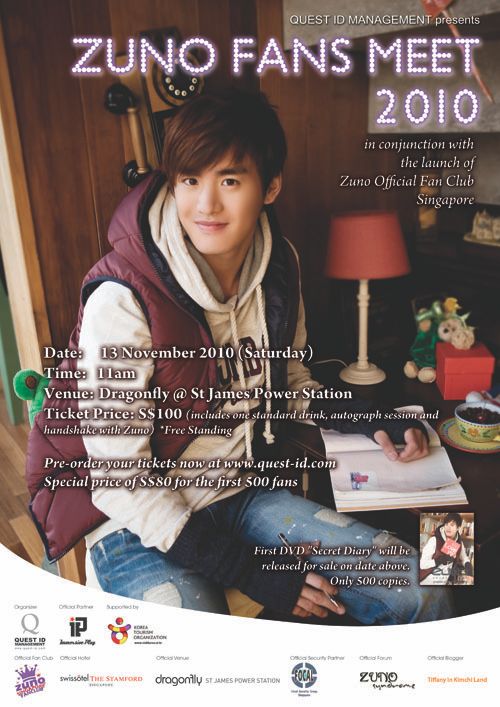 Hi Readers! If you are Zuno Fans, here good news for you! Introducing the next kpop event happening in Singapore – 'Zuno Fans Meet 2010' which organized by Quest ID.
3 thing About Kim Junho, Zuno:
# Older fraternal twin of Xiah Kim Junsu, of popular Korean group DBSK/TVXQ/JYJ
# Zuno's mother was a former Miss Korea
# Currently involved in singing and acting

Well, If you are interested to join in 'Zuno Fans Meet', here your chance to purchase the tickets at Quest ID website! Below there are images to guide you for your registration and buying tickets online at the Quest ID website. (Ticket Pre-booking – Walk through)
Event Detail:
What: Zuno Fans Meet 2010 – Singapore
Date: 13 November 2010 (Saturday)
Time: 11am
Where: Powerhouse @ St James Power Station
Ticket: $100.00 (includes 1 free drink, autograph and handshake with Zuno)
Interesting Facts:
– $80.00 early bird ticket price for first 500 fans.
– Pre-booking available for Quest ID portal members only.
– 500 copies of Zuno's first DVD "Secret Diary" will be released for sale on date of event.
– Free standing so be there early.
– For latest promotions, join Quest ID and Zuno Official Fan Club Singapore communities on Facebook

How to Register?
#1. Go to www.quest-id.com and Register to be a member.
#2. Agree to Terms and Conditions and fill in particulars.
#3. Confirm Registration – Click "Continue".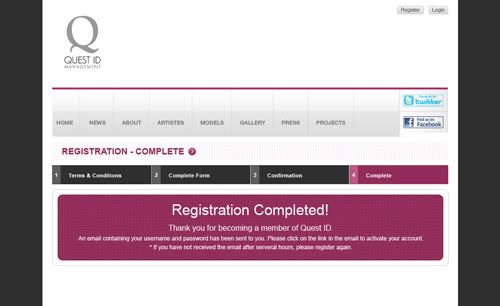 How to buy tickets online at their website?
#1. Go back to homepage
#2. Book ticket and Click on either the main banner or sidebar.
#3. Fill in particulars and click "Buy Now".
#4. Agree to Terms and Conditions, click Confirm order and Order submitted.

*************************************************************************************
If you have follow my twitter, you guys will know that I am inviting 1 lucky reader to this awesome kpop event with me!! How am i gonna invite? Basically, you guys just need to answer a simple question by COMMENT-ING this blog post below!
My Question:
List 2 thing you know about Kim Junho, Zuno.
Take Note:
This Contest open from 26th October 2010 – 2nd November 2010, 8pm.
Best comment will be able to attend this event with me!
Result will be announce on 3rd November 2010 in my blog.
Remember to include your NAME and EMAIL and Blog Link (optional) together with your answer. So that if you are the chosen one, i can email you the detail.
Thanks for participating
Good Luck to you guys!
-Comment Now-