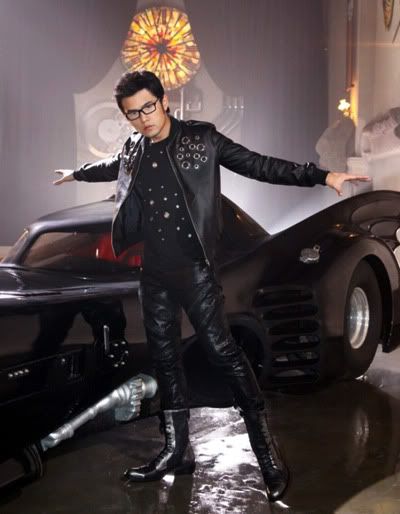 Hello People! Is Monday Today! How you guys been doing? haha…If you have follow my twitter or added me in facebook, you guys will realized i tweeted and updated many news related to Jay Chou new song Today! Haha YES!!! Jay Chou first new song finally release! (周杰倫2010新专辑首播主打歌超人不會飛).
Jay Chou New Song have you listen? For me, I had listen! haha…Heard his new song since 10am and i was totally impress by his talent! New song 超人不會飛 is totally Nice! The music and lyrics flows totally fit the words of 'Jay Chou'. 超屌噢!杰倫寫出與唱出他十年來的心聲。
This song, Jay Chou (周杰倫) describe and saying about this 10 years down the road since the year 2000 till now 2010 year, all about his production on music, movie or drama, People giving good and bad review about him and the stressfulness of his feeling… Jay Chou has been Top in Asian for 10 years, his hard work everyone knew it and as he said before: 'Not everything must be number 1, 只要你經歷那就足夠了'.
[超人不會飛] 歌词说道:'妈妈说 很多事别太计较 开的车不能太好,住的楼不能太高'。Is quite a touching and meaningful song if you review its lyrics…Good news is that, his song was taken by the education. 最好的榜样!
Please visit this site to know more about his new song: [Click Here]
作詞/作曲/製作/演唱: 周杰倫
妈妈说 很多事别太计较
只是使命感找到了我 我睡不着
如果说 骂人要有点技巧
我会加点旋律 你会觉得 超屌
我的 枪 不会装弹药
所以放心 不会有人倒
我拍青锋侠 不需要替身 因为自信是我绘画的颜料
我做很多事背后的意义并非你们想象
拍 个电视剧为了友情与兄弟间的梦想
收视率再高也难抗衡我的伟大理想
因为我的人生无须再多一笔那奖项
我不知道何时变成了社会的那榜样
被 狗仔拍 对他比中指 要道歉 我要怎样
我唱的歌词要有点文化 因为随时会被当教材
CNN能不能等英文好一点再访 时代杂志封面能不能重拍
随时随地注意形象 要控制饮食不然就跟杜莎夫人蜡像的我不像
好莱钨的中国戏院地上有很多手印脚印
何时才能看见我的奖
如果超人会飞 那就让我在空中停一停歇
再次俯瞰这个世界 会让我觉得好一些
拯救地球 好累 虽然有些疲惫但我还是会
不要问我哭过了没 因为超人不能流眼泪
唱歌要拿最佳男歌手 拍电影也不能只拿个最 佳新人
你不参加颁奖典礼就是没礼貌 你去参加就是代表你很在乎
得奖时你感动落泪 人家就会觉得你夸张做作
你没表情别 人就会说太嚣张 如果你天生这表情
那些人甚至会怪你妈妈
结果最后是别人在得奖 你也要给予充分的掌声与微笑
开的车不 能太好 住的楼不能太高
我到底是一个创作歌手还是好人好事代表
专辑一出就必须是冠军 拍了电影就必须要大卖
只能说当 超人真的好难
如果超人会飞 那就让我在空中停一停歇
再次俯瞰这个世界 会让我觉得好一些
拯救地球好累 虽然有些疲惫但我还是会
不要问我哭过了没 因为超人不能流眼泪