26/03/10
Friday
ICE KACANG PUPPY LOVE 《初恋红豆冰》
Movie Preview with Ah Niu (阿牛)
Hello People! Welcome back once again! Yes! The Blog Post you reading now is an event blog post which i attended yesterday, A movie preview with Ah Niu (阿牛) at Dragonfly. Thanks OMY.sg for the invitation! 🙂
对面的女孩看过来….Do you guys still remember 阿牛? Now he had become a director! haha…Ice Kacang Puppy Love 《初恋红豆冰》 is a movie directed by him. Well, Yesterday during the movie preview session, Ah Niu also shared with us about the story of how this movie goes…

Starting of the event, It show the movie preview first followed by playing some game on stage. One of blogger William, was called up on stage (sabo by someone) hahaa…But not bad ar, he sang quite well…However, 3 contestant was rewarded by Ice Kacang Puppy Love Movie Poster.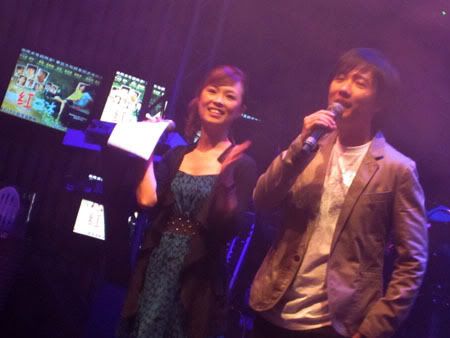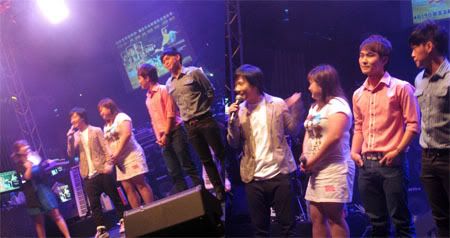 Ah Niu say that, '其实我拍这部戏是想把他们的真面目拍出来'…First time saw the trailer, it look interesting to me as in those Malaysian Singer can acted in the way that 露出他们的另一面…haha 真没想到 Gary Cao 那部分, 真的很Gangster lor…!

Event End around 9.40pm and glad to see Ivan, William and Daniel there. Thanks Yi Zhang for being my guest of the day. haha…Took some picture before i call it a day.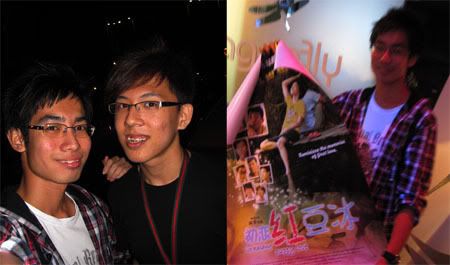 William, Me, Ivan

About This Movie:
Cast: A Niu, Fish Leong, Angelica Lee Xin JIe, Gary Cao, Nicholas Teo, Eric Moo and most Malaysian singers
Synopsis: A woman brings her daughter Da Jia Yu run away from her husband. They live in a small-old town and stay at friend's house earn for a living. The son of the kopitiam tauke, Botak falls into this small little girl. In Botak's life, Da Jia Yu plays an important role. She accompany Botak till they growth up. Botak secretly admires Da Jia Yu. Along the journey, he explores the meaning of true love, devotion and forgiveness.
Tats all for today!
Thanks for your reading and viewing!
[Do Comment/Tag Before you leave this Blog]