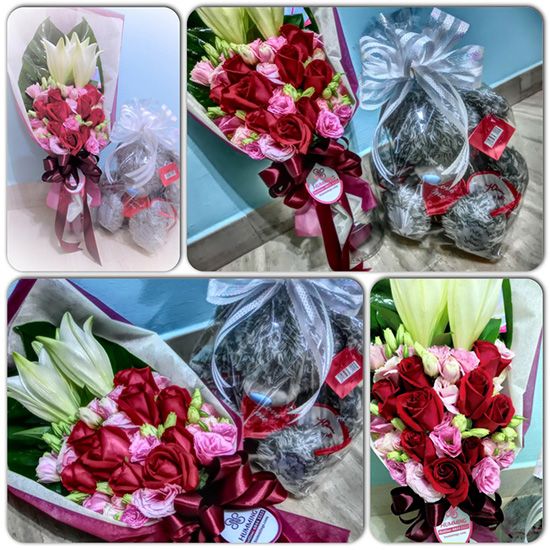 Hi Readers! Valentine's Day is happening next week! Have you prepare your precious gift to your loved/special one? Well, to make your valentine's day a special and memorable day, today I am going to introduce you guys a website – HUMMING.com whereby you can get your well-decorated Valentine's Day bouquet through online.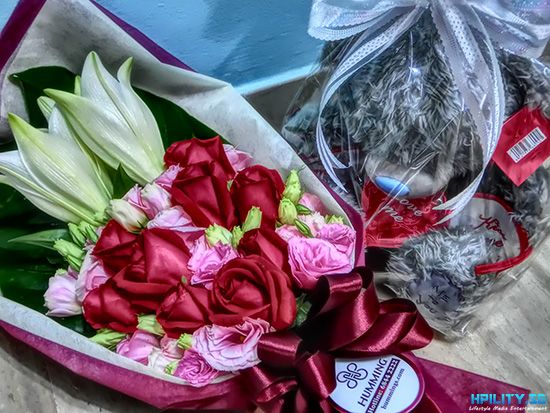 Thank You HUMMING.COM for sending me this lovely Valentine's Day Bouquet known as "By Your Side" (worth S$200). It came with a paired of gallant combination of passionate Red Roses (9 stalks), White Lilies (3 stalks), Pink Eustomas and a hint of love and adoration, this charming 'Me To You' Tatty Teddy Bear 30cm. I believe that this will definitely bring sweet smiles to your loved one. *Ya I hope to give to someone too* Haha

Hence, at the HUMMING.COM website, you can also find other well-design decoration of Valentine's Day Bouquet. Those Bouquet cost from S$65 – S$200 and also, each bouquet give a different meaning to your loved/special one. Remember to choose wisely!

In addition, I would like to recommend guy to buy the 'Precious Box of Love' – worth S$140. It tease her with this luxurious" Precious Box Of Love" filled with 8 Bandung Roses, Statices, Million Stars, Heart-shaped Helium Floating Balloon and classy Pink Leatherette 3 Tiers Jewellery Box. Alternative, you may surprise her by putting a 'Ring', 'Necklace' or even her favourite item into the box and furthermore, she can use the box to put her makeup stuff in future. Valuable item Right!? 😉

With this, I hope you have a memorable and enjoyable Valentine's Day with your loved one this year. For more information about the Valentine's Day Bouquet, do visit Humming.com, follow their official Humming twitter and Humming Facebook Fan Page and Humming Flower Instagram too. *Smiles*