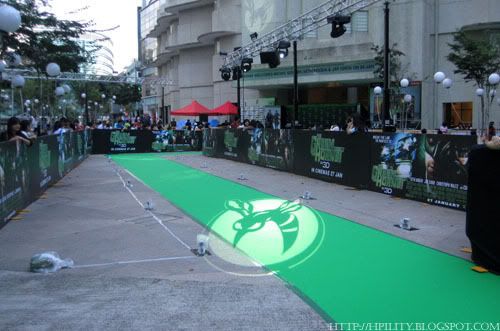 Hi Readers! Welcome back to my blog! If you have followed my twitter or facebook, you guys will know that yesterday i attended the Green Hornet Gala Premiere with a group of friends at The Cathay.
Blog post continue from my Teaser version of Green Hornet Gala Premiere: " 今天出席了青蜂侠电影首映 很开心可以看见亚洲天王周杰倫,好莱坞巨星 Seth Rogen 和导演 Michel Gondry, 同时也高兴看见很多熟悉的面孔朋友们。青蜂侠这部好莱坞电影很赞!大家一定要去看喔!明天将会出席另一部电影首映!好期待也好兴奋啊!哈哈哈 " from my 微博

It's Green Hornet movie, therefore the colour "Green" was use as a theme this event. Well, other than the spotlight was flashed out with hornet sign, they also used the green carpet instead of red carpet to welcome the stars artists on stage.

This was during time around 7pm whereby people start waiting for their idol to arrival. Thus, you guys should know who i going to mention… Jay Chou!!! hahaha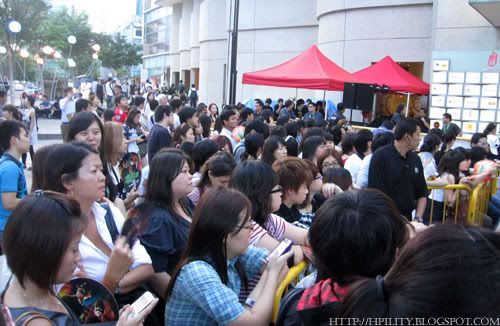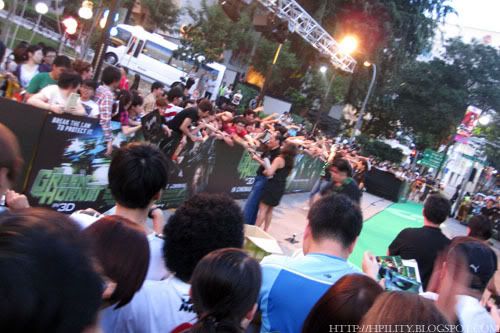 Before those mediacorp and other media celebrity arrival, there were some performance on stage to start up the opening of this gala premiere event. Yup! Performance related to the movie which was fighting the bad guy!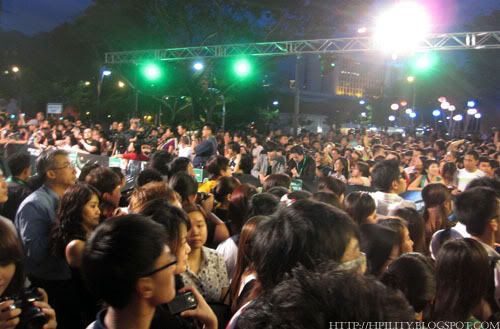 Yess! Here the time where most of celebrity arrival and also the Green Hornet main actor Jay Chou & Seth Rogen as well as director Michel Gondry. Media from different side of world were busying interview them and taking picture of them. Three talented stars stepped on Singapore Green Carpet and a warm welcome from everyone there!
Director Michel Gondry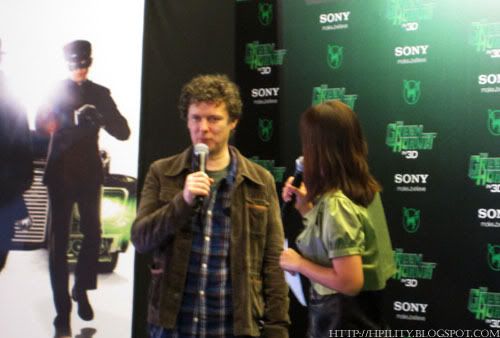 Jay Chou & Seth Rogen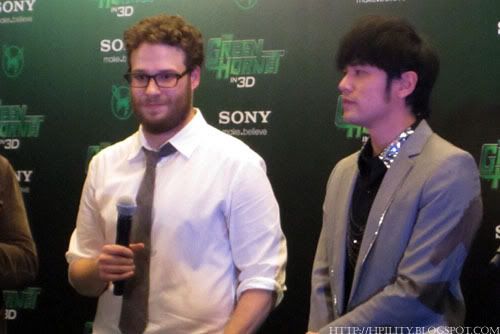 Jay Chou, Seth Rogen and Michel Gondry on stage promoting their new movie – Green Hornet 3D and also sharing some part of this movie. As we know in the 30s, Green Hornet was cast by Bruce Lee and now 2011, Jay Chou had took over Bruce Lee role in this movie.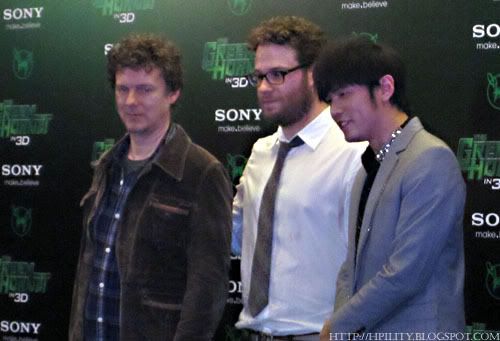 Yup! I had watched a new superhero film – The Green Hornet movie! Overall, i like this movie alots! haha.. Jay Chou act as a genies in this movie, he made lots of "latest technology" item and work as green hornet side kick. Storyline and visual effect has fulfill its theme and i rate this movie as 4/5 stars. Maybe there part 2 coming up? haha..