Internet is very important in our living environment nowadays, especially when we visiting a place or even walking on the street, internet can help us solve critical situation such as finding road direction on Google maps. Likewise, having free WIFI connection along the street or in a café may allow us to communicate with friends via application and also to finish up our work at anyplace and anytime. Today, here are the 10 recommended cafes with Free WIFI connection in Singapore.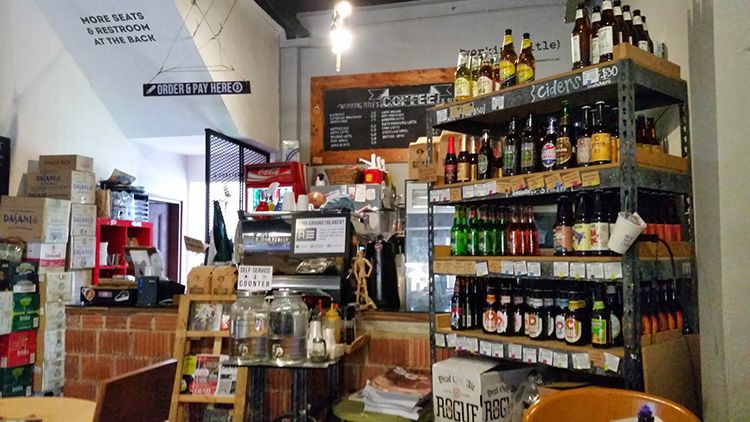 1. Working Title Café
Located in the popular Haji Lane area, Working Title Cafe humble setup with an indie vibe. Working Title owned by the same folks behind Shophouse The Social Hostel, the cafe occupies the hostel's first floor. To keep costs low, the furniture were collected from preloved stores and some were also hand made from wooden planks. Hence, the eclectic mix of tables and chairs.
Working Title Cafe Location:
48 Arab Street Singapore 199745
Opening Hours:
Mon – Thu: 10:00 am – 10:00 pm
Fri – Sat: 10:00 am – 12:00 am
Sun: 10:00 am – 10:00 pm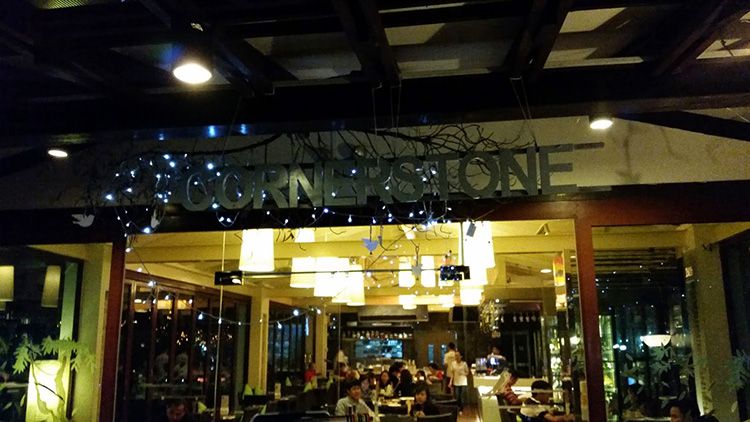 2. Cornerstone Café
Cornerstone Cafe a relaxing and casual atmosphere, nestled amidst lush greenery.It is also a pet friendly cafe with a dedicated outdoor section complete with a water point and dog bowls provided for your canine companion.
Cornerstone Cafe Location:
Bishan Park 2, 1380 Ang Mo Kio Avenue 1
Opening Hours:
Daily: 12pm – 10.30pm
Photo credit: www.dramafever.com
3. Book Themed Cafe
The Book Cafe is located at robertson quay. It offers a relaxing ambience on an extensive cosmopolitan menu that reflects modern dietary trends. Customers of The Book Café experience value-for-time in modern comfort settings. A diversified range of reading materials is available- customers can browse through any of several hundred local and foreign books, magazines and newspapers available.
The Book Cafe Location:
#01-02, 20 Martin Road, Singapore 239070
Seng Kee Building, Robertson Quay
Opening Hours:
Sun -Thurs: 8:30am – 10:30pm
Fri – Sat: 830am – 12:30am
Photo Credit: Jonesthegrocer.com
4. Jones the Grocer Cafe
Jones the Grocer, an Aussie establishment which aims to provide patrons a wide gourmet experience. The uniqueness, for one, gives me the feeling of being home away from home. It gives me the vibe that I'm not dining in Singapore with the help of 'high-class' vibe, and that is surely an experience.
Dempsey Hill:
Block 9 #01-12 Dempsey Road, Dempsey Hill
Singapore, 247697
Opening Hours:
Monday – Sunday 9:00am – 11:00pm
Mandarin Gallery:
UNIT #04-21/22/23
333 Orchard Road, Singapore 238897
Opening Hours:
Monday – Sunday 9:00am – 11:00pm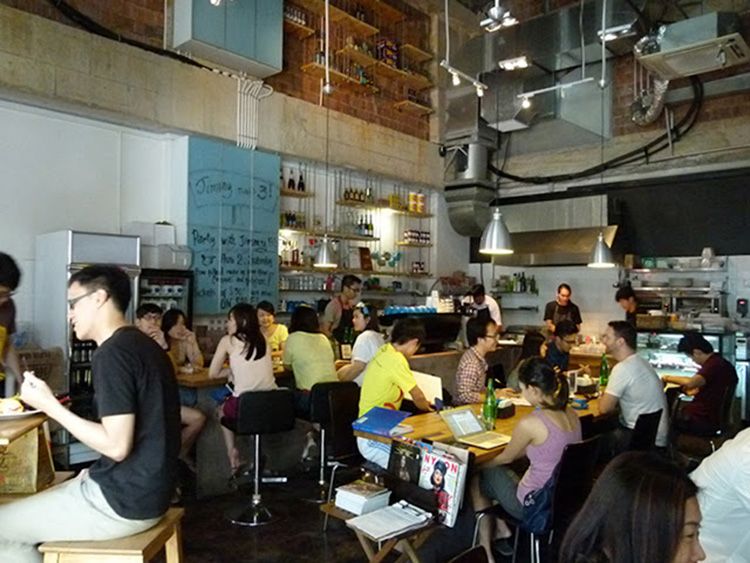 Photo Credit: Sprudge.com
5. Jimmy Monkey Cafe
Located in a tucked-away part of Buona Vista is a charming little hangout. Jimmy Monkey serves up a full menu and excellent coffee to accompany your spreadsheets or surfing session. There are totla of 12 power points for you to use so you can plug in your iPad/laptop to do work or hold casual business presentations.
Jimmy Monkey Location:
One-North Gateway, #01-51 One-North Residences,
Singapore 138643
Opening Hours:
Mon-Fri 8:30am – 8:30pm
Sat-Sun 8:30am – 6pm
Photo Credit: Teenage.com.sg
6. Hyde & Co Cafe
Located along the quieter part of North Bridge Road, Hyde & Co stood out from the rest of the cafes around the area with its warmth and attentiveness. It's best Known for their high teas and crumpets. Along with their contemporary interior, with the white-washed walls, is also their accidental signature, insta-worthy quote on the wall, which reads "You can't buy happiness but you can buy tea. And that's kind of the same thing".
Hyde & Co. Location:
785 North Bridge Rd, Singapore 198753
Opening Hours:
Monday – Sunday (Closed on Tuesdays): 11am to 6pm
Photo Credit: Suchafatty.com
7. Lowercase Cafe
Located on the site of LASALLE College of the Arts. Lowercase is a cafe quadruple threat, It has a relaxed comfy atmosphere, pocket-friendly prices, instagram-worthy interior and provides a pleasant space for artsy students to gather for projects discussion.
Lowercase Cafe Location:
1 McNally Street, Block D #01-01, Singapore 187940
Opening Hours:
Mon-Sat: 8:30 am – 10:00 pm
Sun: 9.00 am – 3.00 pm


8. Miss Molly Cafe
Miss Molly's is a quiet, homey space to while away the hours in comfort, with greater focus placed on their food creations. Miss Molly's Cafe is located in a corner shophouse in Tanjong Pagar. They used lots of different ornaments, some modern, some vintage, to nicely decorate the cafe.
Miss Molly's Location:
2 Craig Road Singapore Singapore 089662
Opening Hours:
Monday – Friday 11.30am to 11pm
Saturday 12pm to 8pm; Closed on Sundays
Photo Credit: drinksomewhere.com
9. Maison Ikkoku Cafe
Located along a quiet street in the kampong glam area. The cosy cafe is located on the ground floor of a 3-storey shophouse, while the second and third floors house a boutique and cocktail bar respectively – all part of a multi-concept lifestyle store that the people behind maison ikkoku are trying to sell.
Maison Ikkoku Location:
20 Kandahar Street, Singapore 198885
Opening Hours:
Monday – Thursday: 9am to 9pm
Friday – Saturday: 9am to 11pm
Sunday: 9am to 7pm
Photo Credit: Pinterest.com
10. Dutch Colony Cafe
Local coffee company Dutch Colony, which supplies beans to a good number of places and has a popular stall at Pasarbella, has expended to a proper café just off Siglap. The cafe was really spacious and nicely designed, a huge contrast from their original outlet at Pasarbella in terms of space! They also hold classes for those who would like learn how to brew their own coffee or try their hand at latte art.
Dutch Colony Location:
113 Frankel Avenue, Singapore 458230
Opening Hours:
Sun-Thu: 8am-8pm
Fri-Sat: 8am-10pm
Editor: Jonathan Soh