Nestled in Maju Avenue in Serangoon Garden estate, SYNC Korean Tapas Bar offers a cosy environment where groups can have a relaxed time chatting, and imbibe the Korean culture. The bar opened from 3pm till 12am daily. Plans to provide lunch and weekend brunch menu will follow.


The owners of SYNC, Brian and Lisa wanted to bring the Korean Tapas to everyone, making it affordable, without imposing a service charge. Their first outlet, a Korean bistro at Westgate, currently sits on the apex of Burpple's hot 100 in October list.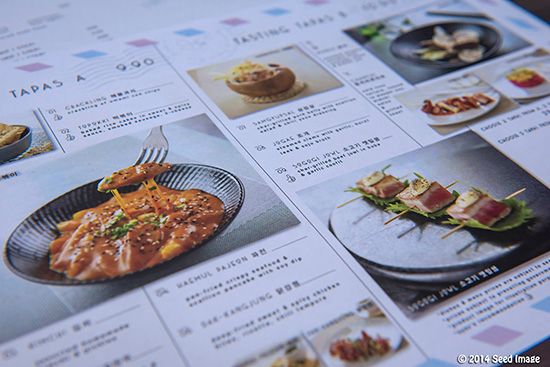 The Korean-inspired tapas menu is the brainchild of both Consultant Chef Edwin Lau, 32 and Head Chef Calista Ong, 26. Both have extensive chef experience especially Edwin Lau. Calista Ong graduated from the Culinary Institute of America.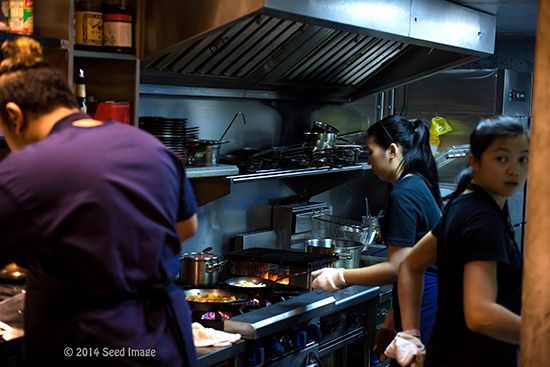 Here are dishes that I have tried.
Toppoki : S$9.90
Traditional rice cakes covered with sweet and spicy sauce. In addition, sausages added with melted cheese. Very soft and sauce is awesome. This is a mouth-watering dish.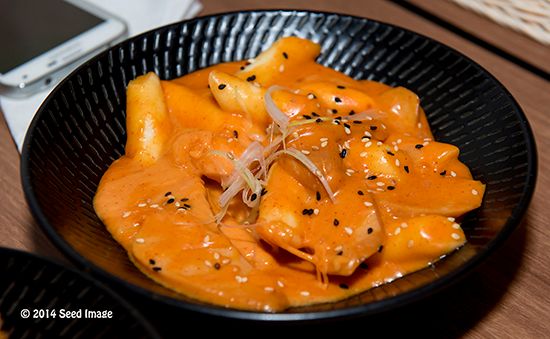 Sogogi Jowl : S$10.90
Char-grilled beef jowl in hoba & garlic confit. The beef is tender and tasty. In addition, the garlic completes the full taste. How do you eat this? Simply pull out the stick and wrap the beef / garlic with sesame leaf and put it whole into your mouth. Highly recommended.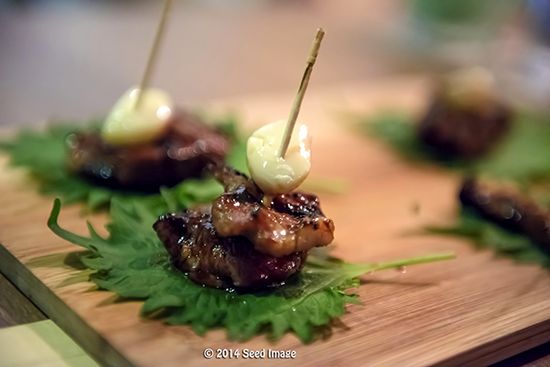 Ssam : $40.90
This dish is very similar to the Chinese cruise, belly pork with bun. But instead of belly pork, pork ribs replace it. The bone can be easily removed. Wrap the meat together with bun and vegetable. Simply Delicious.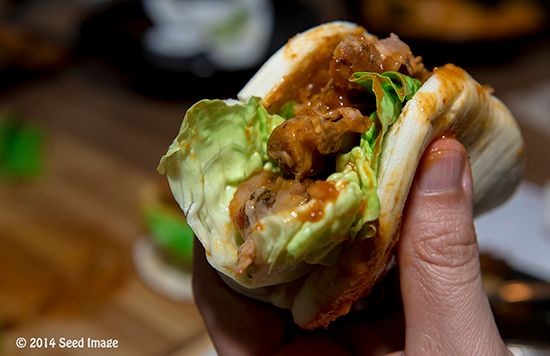 Dak-Kang Jung : S$9.90
Deep-fried sweet and spicy chicken bites, ricotta chili tempura. I find this dish slightly salty. Very similar in texture to the Chinese cruise, sweet and sour pork. It may appeal to others but this dish is not one of my favourites.


Crackling : S$9.90
Crackling of umani cod chips. This is definitely my favourite dish among all the dishes tasted. Unlike the usual crackers, it is soft and tasty. You will not be disappointed with this dish. Remember to order this dish when you are at the bar. Another highly recommended.


Dak Gar-Bi : $39.90 (2-3 Shares)
Spicy chicken paella with onions, mushroom, cabbage, sausage, kimchi. Quite a large portion. It has many ingredients. You need to mix it well. There seems to be many flavours such as the sour taste from the lemon, spicy taste come from the chicken and kimchi. According to waitress, this is popular main dish.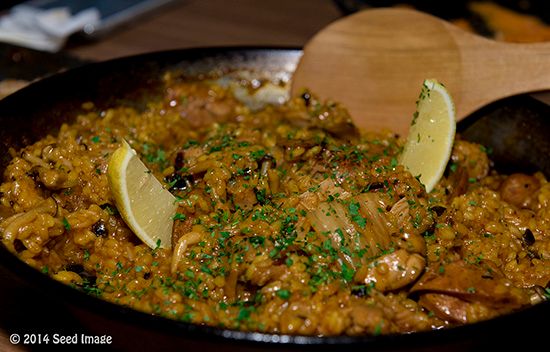 Misugaru : S$8.90
Misugaru lavacake, vanilla ice cream, strawberries & lime compote. A popular dessert. When you cut the cake, "lava" started to flow out. The concept is unique and refreshing. The cake combine with the "lava" sauce, produces a moist warm cake. Not forgetting the vanilla ice cream to cool you down from the "hot lava".


Hotteok : S$8.90
Pan-fried chewy sweet Korean pancake with banana foster. Deliciously done pancake which was torched by the chef. You can smell the aroma when dish was served. Same goes for the banana.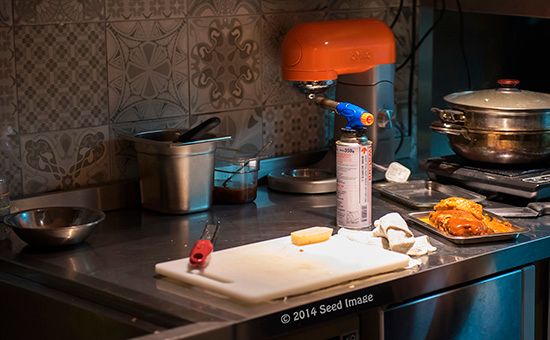 Soju Mojito : S$9.90
A minty lime drink. Very refreshing. Some may not like the minty taste. As the ice melts, it tastes much better.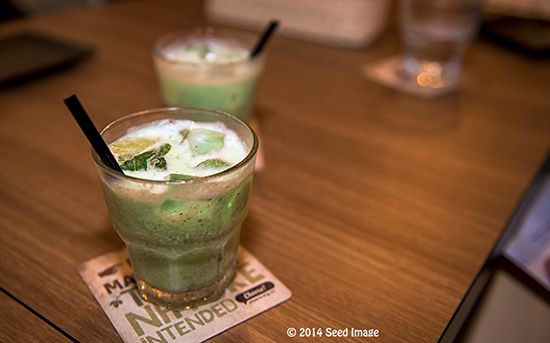 Soju Peach Shot : S$7.90
This is my favourite drink. Drink it together with a piece of peach does make a difference to your taste bud. Very satisfying… more please.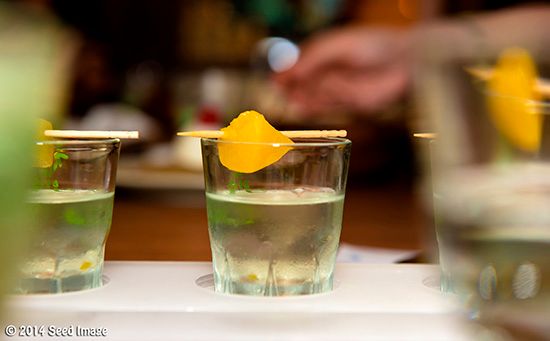 Bar Details
SYNC Korean Tapas Bar
12 Maju Ave, Serangoon Garden Estate
Opening hours : 3pm to 11pm (Sun to Thurs), 3pm to 12am (Fri, Sat, PH and eve of PH)
Phone Number :6282 9612
Facebook : facebook.com/syncbistro
Promotion
Daily 3pm to 6pm ( starting from 3 Nov to end Dec )
Free coffee/tea with any order of dessert
S$5.90 beer
$9.90 beer + Tapas of the day
3pm onwards, only on Weekends (Starting 8th Nov)
Family Set Meal at $63.90 with 4 Tapas and
1 Paella / Budae Jigae (U.P. $72.80)
My Opinion
It is only when you try it yourself, you will know the taste of good food. In my opinion, this is modern Korean foods with a twist. Food design and probably fusion of various Korean, European cuisine and even some influences of Chinese cuisine make this bar a must try restaurant in Singapore. The decoration and environment were well coordinated with its food theme.
Editor & Photo Credits: Derrick See