Monochrome Fusion Bistro infuses with black and white design outline concept to give diners a unique dining ambiance experience. The black and white theme is designed by the shop owner who came from a graphic design background, and with the expertise he had put in this cafe bistro, it showcase a high elegant atmosphere to the diners. Monochrome Fusion Bistro is nestled in the heart of Chinatown at 291 South Bridge Road.


The walk through will show you a range of monochrome theme display from magazine, photo gallery and to a series of wine bottle collections. Hence, I like the dazzling black and white criss-cross wall background.
Let's check out some of their highlight menu in this cafe bistro!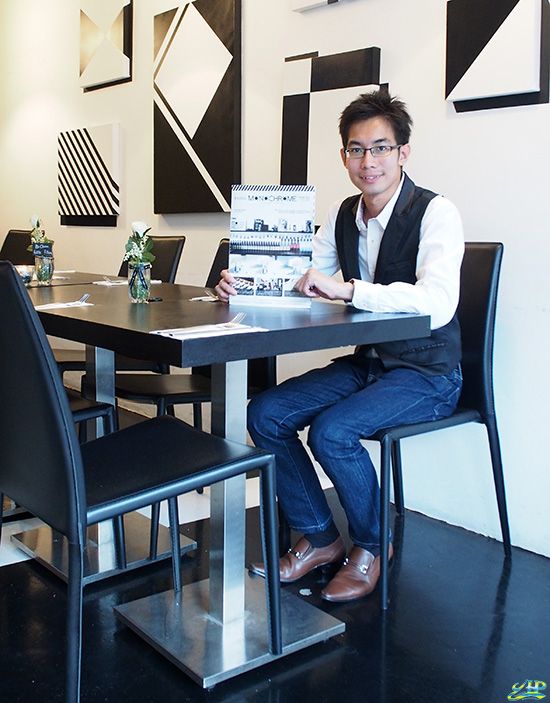 One of the must eat started at Monochrome Fusion Bistro is their signature's Coated Mid Wings, serving in three different mouthful flavour such as Chilli Crab, Honey Oat and Thai Sauce. The tender and juicy chicken wings simply melted into my mouth after the first bite and it is a good starter to kickoff with a glass of root beer float.


I ordered their Spicy Crab Meat Linguini for my main dish. I wasn't fancy by this dish as the over adding of chilli padi has overtaken the pasta taste. However the soft-shell crab is still satisfied for dining.


Rose Lychee Cake is one of my favourite desserts in Monochrome Fusion Bistro. Sweet lychee cake fusions with Bandung taste soften into my mouth. Really worth for a try!


If you are chocolate pudding lovers, you may want to try out their Sticky Date Pudding with Ice Cream!
Young owner of Monochrome Fusion Bistro


My Verdict:
Monochrome Fusion Bistro is a valuable café to chill for great dining with friends. The black and white atmosphere concept will definitely cool down your mood especially after long day of work. Hence, I enjoyed their delectable fusion dishes from local to western taste with the price range from $10 – $30.
Monochrome Fusion Bistro Location:
291 South Bridge Road, 058836