Reminisce those times spent at Insadong back in Korea? Not to worry because we have a fix for that. Why so? Because Insadong is here in Singapore! Located on the alluring island of Singapore, you can now have a feel and taste of Insadong.
Insadong Korea Town at Resort World Sentosa is created with the idea of bringing the entire Insadong experience here to Singapore. Before I go into details, let me talk a little bit more about Insadong. Insadong is a relatively long street in the city of Seoul. It is one of the most memorable attractions among tourist and represents the focal point of Korean traditional cuisine, culture and crafts.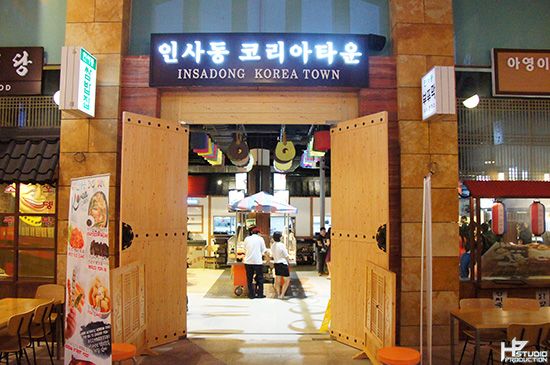 As such, in order to achieve this overall experience, this place is sized at 6,000 square feet and able to cater up to over 300 diners. Insadong Korea Town offers an assortment of over 200 types of authentic Korean such as Korean-Chinese, Korean-Western, Korean-Japanese cuisine and a variety of street food. Not forgetting its traditional culture and crafts, one can even shop for Korean merchandise, accessories, and souvenirs at the retail carts.
This ordering kiosk is user-friendly and comes in 3 languages. As told, they will be having more languages to better cater to the mass, especially when it is located at Resort World Sentosa. As of current, it only accepts cash payment but more mode of payments will be implemented, including accepting credit card payment and Resort World Sentosa Reward's Card.
Giving the ordering kiosk a try
Basically, one will just have to select what we want to order and its quantity. Once done, just press the green button at the bottom right and a receipt will be dispensed. Present the receipt at the counter and in exchange, they will pass you a 'beeper' that will beep once the food is ready. Nothing new as Marché is using this concept too.
A clipboard showing where the counters and kiosk are located
Let's take a look at its menu now.
Korea – Japanese
Korea – Authentic
Korea – Western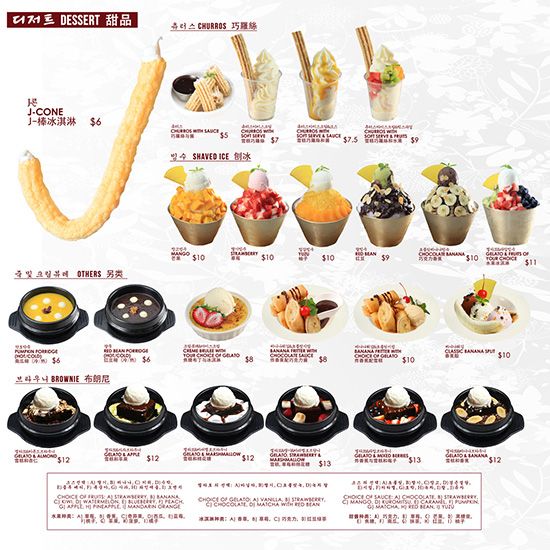 Totally spoiled for choice!
The first dish being served was non-other than the traditional tteokbokki. Lightly garnished with white sesame seeds, a great appetizer to start with.
Next, comes the Ginseng Chicken Soup. This is one of my favourite as I am always a fan of herbal soup. The ginseng taste is just nice, not too strong such as its overpowering the taste of the soup.
Another of my favourite is the Bossam. Bossam is a popular pork dish in Korean cuisine whereby the pork belly is thinly sliced and usually served with sides such as garlic, ssamjung (wrap sauce), kimchi etc. Upon eating, the meat and sides are often wrapped in vegetable leaves, hence the literal meaning of Bossam. I'll have to admit that the pork served is of good quality, especially when it is priced at S$15 only!
Coupled these dishes with refreshing Watermelon Soju!
Drink like a boss!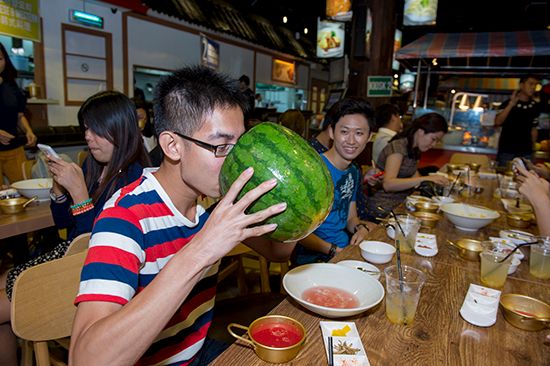 For the dessert, we have J-Cone! J-Cone is widely sold in Korea. It is basically a J-shaped cone with ice-cream in it. So if you spot anyone eating this J-shaped looking thing at Resort World Sentosa, you know it's from.
A great thank you to The Influence Network (TIN) for organizing this food tasting session. Insadong Korea Town is definitely a great place to relax and enjoy great Korean food with your friends and family after a day of fun at Resorts World Sentosa. On top of it, it is at an affordable price, especially when most dining places in Resort World Sentosa are priced heftily.
Group photo and call it a day! ^^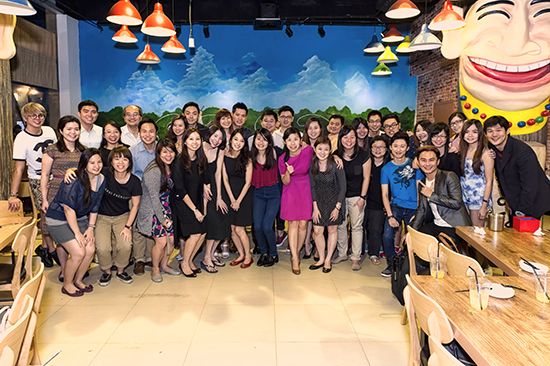 Insadong Korea Town Address:
26 Sentosa Gateway,
#01-30/31/32/33 Singapore 098138
Opening Hours: 11am – 10pm (Daily)
Tel No.: 6238 8221
Email: contact@insadong.sg
Website: http://insadong.sg
Editor: Geraldine Teo