Shopping at Orchard with conveniency! Few days back, My friend and I attended the FairPrice Finest event and here good news for everyone who travel to town often! FairPrice Finest supermarket is now officially open at Scotts Square, offering a wide range of specially selected fresh foods, great store ambiance and personal customer service.
Welcome to FairPrice Finest

The FairPrice Finest is designed to offer customer an enhanced shopping experience. It is simple yet elegant interior allow customers to focus on the produce and the products. The store is brightly lit and has spacious aisles and soothing ambient music completes the shopping experience.

Likewise, FairPrice Finest offer the best import product of the world whereby 30% of the products are dedicated to a cosmopolitan selection of premium and specialty product not found in other FairPrice stores. Whereas 70% of products are staples found in all FairPrice outlets, at the same prices.
As the new technology has improved in the market and with the changes of lifestyle in Singapore, you will realise that the prices label at FairPrice Finest is shown in electronic. With this, shoppers will be able to keep track the usual and discount prices of the product easily.
Hello Kitty Snack from Japan
Premium Wine Stores

On top of the large variety for shopper to shop for their products, the service ambassadors of FairPrice Finest also available to offer shoppers information on the available products and even guidance on how certain products can be used.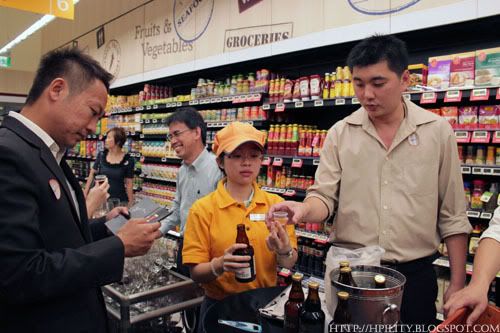 Shopping with Delights

That's all for today! Hope you guys have an exciting lifestyle and enjoy shopping at FairPrice Finest! For your information, the FairPrice Finest store at Scotts is open from 8am to 11pm daily.