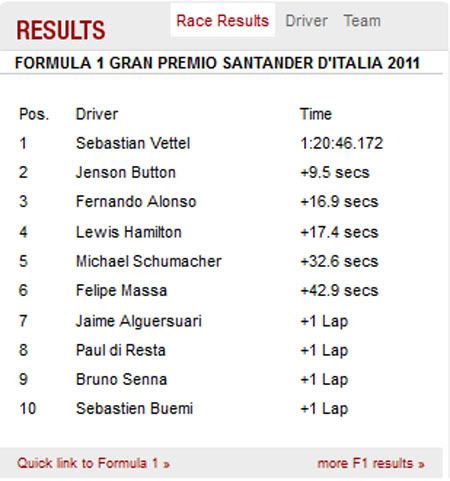 Formula 1 Singapore Grand Prix 2011 has officially ended! Have you seen the overall race result? Is above here! Hahaha… It was an another exciting and interesting race this year at Marina Bay and I do believe that the local and non-local people do enjoy their night life at Marina Bay with the awesome entertainment provided too.
Congratulation to Sebastian Vettel from the team of RBR-Renault, who won the championship of Singapore F1 this year! Lets drink red bull now to celebrate it! *Smiles*
Quoted from My Cousin about the winner:
"Vettel is truly a champion. He have all what a sportsman need. Sportmanship, consistenency, mental strength, aggresiveness and talent."
Summary review of Singapore Grand Prix 2011:
After three days of non-stop action, the spectacular and dramatic F1 night race has ended with Sebastian Vettel crowned as the winner of the Singapore Grand Prix followed by Jenson button and Mark Webber who finishes 2nd and 3rd respectively.
Thousands of motorsports enthusiasts thronged the marina bay circuit to catch the race and have kept the atmosphere alive and exciting. As the race kick-off, the F1 drivers fought against one another and displayed their superb driving skills to win the race and earn points for their team.
There are a couple of dramatic accidents that happened during the race and hence, the safety car was deployed to ensure the roads safe before resuming the race. At the end of the race, the dazzling fireworks lit up the night sky and added the overall excitement at the end of the event.