Hi Readers! Welcome back to my blog! I hope you people have a great weekend with your delicious curry celebration! Hahaha… As for today, I'm going to share something unique and interesting about Singapore.
This year, together with the celebration of Singapore Economic Development Board (EDB) 50th anniversary, this was the first time Singapore held a SingaPOP concert at Marina Bay, The Promontory. Thanks to URA for the media invite and very glad that I had a chance to stand up close with our local artiste.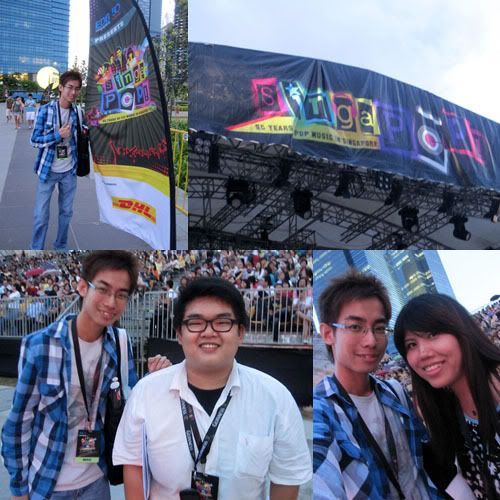 "SingaPOP! – 50 years of POP music in Singapore" You have heard of Kpop and Jpop but have you hear of SingaPOP? Yes! SingaPOP means Singapore POP! A POP concert which gathered the Singapore talented singer such as Dick Lee, Ling Xiao, Tokyo Square, Lee Wei Song, Kewei, By2 and etc…
The tickets was totally free of this concert but you guys might be wondering how these audience get invited? Yup! Those public audiences got invited through balloting of tickets online and it has the result of total more than 6000 people registered in this SingaPOP concert.


SingaPOP concert started with the big crowd of enthusiastic audiences at about 8pm, kicking off filming the surrounding by the Mediacorp crew as well as the 2 host, Belinda and Daniel Ong on stage were heating up the atmosphere of its surrounding before the actual showcase start.
People Mountain people Sea! lol 人山人海

Mediacorp Camera crew busy filming the concert

Camera crew on stage



The concert divided up into five different parts which include 1960s, 1970s, 1980s, and 1990s, the 21st century and finale. Starting from the oldies till the new generation type of pop music, knowing how the past songs look like and comparing with the latest 21st century music. The dynamic changes of music style flow along the teenagers' trend nowadays.
I was totally into the SingaPOP concert mood because all the song they sang touched my heart and it reminds me of past life memories. Many classical songs started to flow into my mind when the live band musician starting off to hit their first note on their instrument.
Sakura Teng 1960s showcase

Ling Xiao singing 可爱的人生



Especially when it comes to the 1980s onward, where Lee Wei Song, Rachel Chua and 大风吹 performing the Singapore most memorable childhood song "早安老师", It brought back my childhood of watching the tv drama on Aiyoyo 老师. I guess the crowd did enjoy singing along with this "historical song" too! Hahaha
Kewei singing 城里的月光



As the concert move on, classical Singapore Singlish rap song "Rasa Sayang" which performance by Dick Lee, Najip and Sheikh Haikel was one of the highlight of the night! I was impressed by Dick Lee stage performance and he really knows how to catch all the audience attention! *Awesome*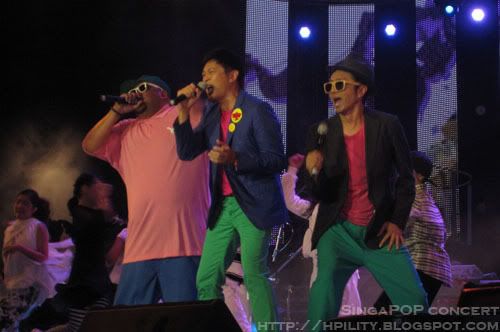 Well, the whole concert getting more and more excitement when it came to the 21st century where the era of Y-generation. In this section, Superstar local artiste such as Ah Do, By2, Olivia Ong and Taufik Batisah had also showcase their famous album song together with their wonderful dance step to impress their fans below the stage.
As usual, fans below can't stop cheering for their idol on stage and it was great to see all those hardcore fans standing together regardless any races, shout, cheer and sing along for the past nearly 3 hours.


After all, the Finale part was to gather back all local singer artistes back on stage for the group singing of "Home" and give a farewell wave to everyone who attended this SingaPOP concert. Thanks for the invitation once again, I did enjoyed my night with the oldies and new awesome song with my friends. With this, I call it a day. *Smiles*
All the star gather back on stage for finale performance

Happy EDB 50th Anniversary! SingaPOP successfully ended!