Hi Readers! It's Saturday! Today going to share with you guys about the Empire of Silver (白銀帝國) movie and an introduction about Zhang Tielin (张铁林) who cast in this film. Empire of Silver movie directed by director Yao Shu Hua and cast by Aaron Kwok (郭富城), Zhang Tie Lin and Hao Lei.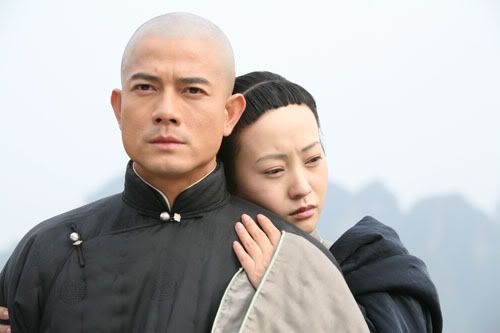 About the Empire of Silver Movie:
At the end of the 19th century, Lord Kang (Zhang Tie Lin) is the rich and powerful head of the Shanxi banking empire. He intends to make his son "Third Master" (Aaron Kwok) his heir, but the young man cares more about liquor and women than his family business, and not until his family is hit by a tragic incident does he reluctantly step up into the leader role.

However, the idealistic Third Master often clashes with his father, for he does not agree with Lord Kang's ruthless ways and questionable business ethics. What's making their relationship worse is that Third Master still has feelings for the girl (Hao Lei) who has now become his stepmother after unwillingly married Lord Kang.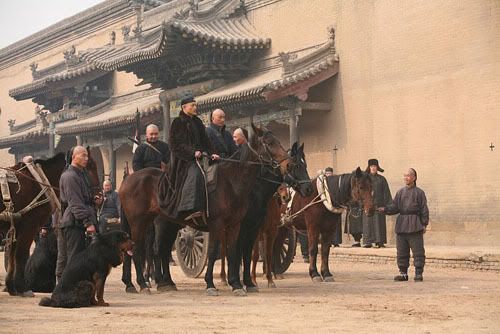 Amidst greed, deceit, and jealousy, he must decide whether to follow through on his father's path when the country is at a turbulent time with threats of foreign invasion and impending revolutions…

Aaron Kwok (郭富城) very famous, almost everyone know him! haha… Now, let me introduce this cool guy Zhang Tielin (张铁林) and some of his interview about this film. Do you guys know him? If no, here a good chance to know him now! hahaha

Backgrounder of Zhang Tielin:
He was born in 1957 in Tangshan, Hebei China and with over 30 years of experience in the film industry, Zhang established himself as a household name with many movie fanatics. Most notable for his role as the Qian Long Emperor in Princess Pearl and Zhang Tielin has been touted by netizens as the 'best actor who is well suited for Emperor roles'.
Zhang Tielin has starred in over 45 movies and TV series combined since setting foot into the entertainment industry. He studied in England and has an English citizenship and his talents include performing, screenwriting, directing, calligraphy, and traditional Chinese painting.

Below here are some Transcript of an interview with Zhang Tielin in this Empire of Silver Movie. Before I proceed on, I want to thanks to Robin from sprg who provide the Question and Answer detail information.
Q: Then what do you primarily take into consideration when taking on a role?
Zhang: I believe when a director asks an actor to play a part, the director already takes into account stuff like, what kind of characters the actor has played in the past, as well as his personality, him perceived image among the audience.
So when you take on a role, you can see that the director must believe the character is on some level aligned with your past roles and your own characters. If you're talking about my role in this TV series, I majorly consider whether I can deliver.
I mean whether I have what it takes to make the character alive. So usually I wouldn't consider roles that are too funny, those in an extreme comedy setting. I rarely take on such roles now. I am too old for that!
Q: Oh! Then can you tell us a few actors/actresses that you admire, recently?
Zhang: Actors/actresses I admire! I think currently in China, there are not enough movies. So a lot of young actors are neglected. There are a lot of outstanding young actors. But much to my regret, I do not watch too much Television.
I don't have much time to watch TV. So for the actors I admire, it's more based on my impression towards them, their state of being, especially a lot of actors in mainland China. More and more young actors and actresses are becoming mature in their performance.
But 40 is still a more appropriate age to lead in a movie. The young ones still need more honing. I will speak for our movie. There're more and more good actors from Hong Kong and Taiwan those past few years. Same thing with mainland China's actors.
Q: This time, before filming the scene of you on bed with Hao Lei, did you communicate with each other about how to perform?
Zhang: Of course not. It wasn't much of a erotic scene, and not much nudity either. Actually, this scene is more of a vehicle to convey the concept of home abuse that's happening, through this scene of them on bed.
Forcing her to conceive is a kind of Chinese traditional mindset. It is contradictory to the struggle, the twists and turns that Mr. Kang faces on his way of such insistence of the tradition, which then leads to violence.
This kind of bed scene doesn't really require communication beforehand. You should ask Hao Lei and Guo Fucheng. They have scenes with more nudity. They will need more lengthy communication.
Q: Have you not ever been tempted? I mean don't you want to take a challenge for such roles?
Zhang: I don't think it's necessary to use the word challenge in one's life. Life is a process, a journey. Everyday, every piece of work, everything, every new role in life, every new role in a movie is a new life experience, a process.
I never care for challenges. Why do you need challenges? All you need is to do your job, live your life, do your best for the time being. I don't have a great expectation. I don't need to be the King in the show business, like the other actors are pursuing. I think I take my job calmly and with ease.
All I want is to do my best for my role. I feel like I don't have the energy to be challenged for that. It's just not me. I don't want to be challenged. If I take on challenges all the time, I will become Quixote.

After sharing some information here about Zhang Tielin, are you familiar with him now? haha… Anyway, Hope you like this Empire of Silver movie and I'm looking forward to it! *Smiles*