Celebrate Singapore 50th Birthday and discover the hidden gem of Singapore stories at Gardens by the Bay today. In this golden jubilee weekend, Gardens by the Bay is featuring more than 8000 orchid plants display and 10 local iconic legendary stories of Singapore at the Flower Dome.


I believe not everyone know about our "Singapore Stories" especially when it comes to an impromptu question such as "What is Tanjong Pagar means?" and "why is called Tanjong Pagar?"
Well, by walking through this interesting trail in Flower Dome, you will definitely learn something related to Singapore and also a little background stories behind those places. Likewise, the floral display is also one of the highlight to commemorate Singapore 50th Birthday.


Next, get ready to immerse yourself in a visual and aural spectacle with their SG50 edition of Garden Rhapsody at the Supertree Grove. For the very first time, Garden Rhapsody will be featuring a medley of favourite Singapore songs. Get down to SuperTree Grove at Gardens by the bay and sing along today. The SG50 edition of Garden Rhapsody is open free for all public and will be happening in the evening from 7.45pm to 8pm as part of SG50 celebration.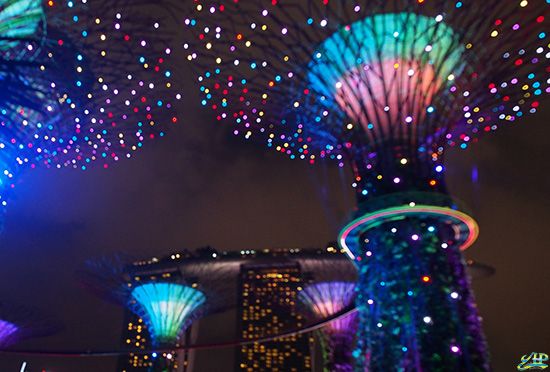 To conclude your fruitful Gardens by the Bay visit, do drop by dinner at Satay by the Bay to enjoy a chain of local delights such as Satay, Roti Prata, Fried Hokkien Mee, Chilli Crab, with your family and friends. Hope you have a great and memorable SG50 celebration at Gardens by the Bay.