Advertorial

Hi Readers! 2 lovely occasion fall on February, where to celebrate your Chinese New Year and Valentine Day with your family and love one? Yes! Today my blog going to introduce you an awesome place with delicious Japanese cuisine for your celebration.
Last week, I and few bloggers were invited to Ministry of Food (MOF) located at Suntec city for their Lou Hei session and 'Valentine special menu' food tasting event. It has a cool interior design for people to consume their meal at this type of Japanese cafe environment style.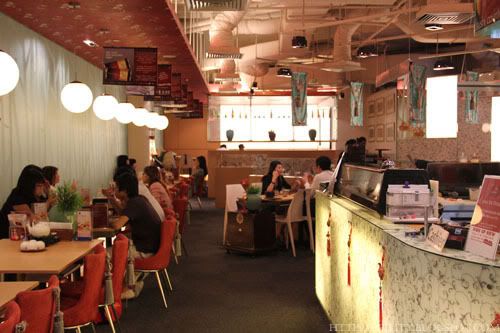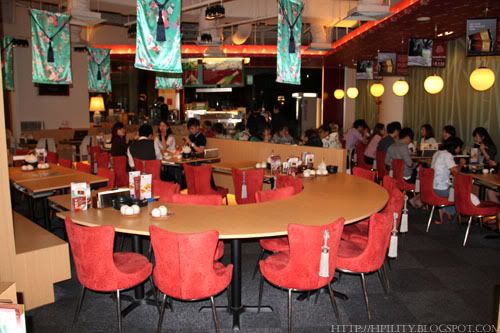 It's a good start of having a cup of Japanese Tea
Introduce Part1: MOF's Prosperity YuSheng

It is made with a mixed of the freshest shredded carrot and raddish, together with traditional YuSheng Ingredients and sauce and of course topped up with abundance of Salmon Sashimi, Chuka Fukahire and Chuka Kurage for the Exquisite Japanese touch.
Huat Ah!

From my part of view, this was the best YuSheng i eaten so far within my Chinese New Year week. You guys should go have a try too! For your more information, this YuSheng is available either Dine In or Take Away. Go HUAT with your Family & Friends now!
Price of this Prosperity YuSheng:
Large (6-8 PAX) : $38.80
Reg (3-4 PAX) : $28.80
Small (1-2 PAX) : $18.80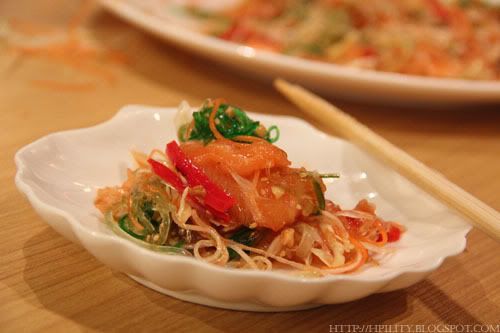 Introduce Part 2: Valentine Special Menu

Valentine Special Menu came in a set of Japanese foods with Seafood Obinmushi and a cup of Strawberry Kurian (Ice Cream). It is a set meal which serve for 2 as a couple to enjoy the valentine moment. It's cost at $58.80 ++ and the promotion of this valentine special menu start from 9th February till 14th February 2011.

Well, 2 sets with choice of Teriyaki salmon slice/ Beef slice/ Unagi/ Salmon belly and it includes Japanese flavoured rice mixed with vegetable, pickles & seafood soup.

I love their white wine! Enhance your romantic atmosphere with your love one by ordering the additional of strawberry white wine. It cost at $8.80 per glass.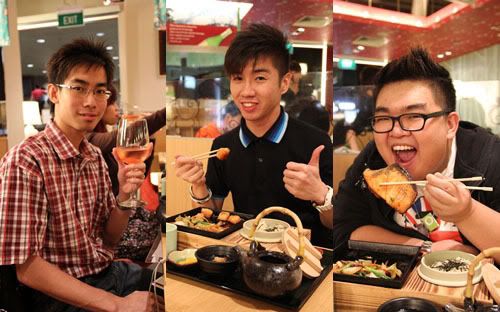 How can romantic goes without a candle! haha Yup! In addition, candle will be given to each couple as they can light up and have their romantic candlelight dinner. Simple yet it makes the environment look blissful and wonderful.

Be sweet with your partner! After having main dish, here comes the dessert. Strawberry Kurian is a dessert of ice cream which comes with strawberry Gelato, Softserve ice cream, mixed fruits, Red bean and Kanten jelly.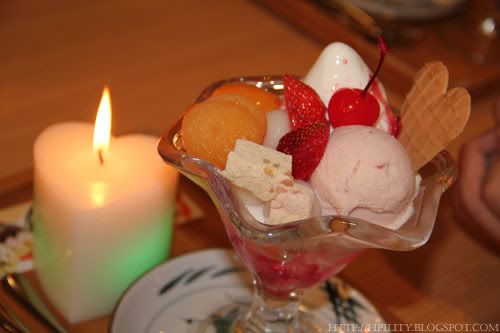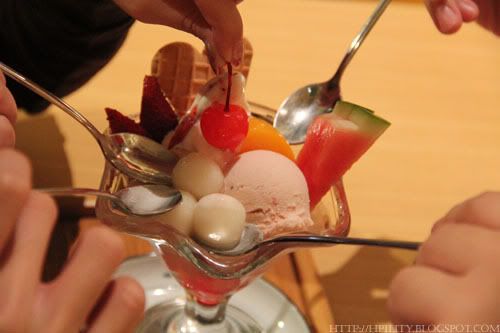 Let me give you few taste of it
Introduce Part 3: MOF membership card.
Enjoy 2 year membership benefits with MOF, you can have 20% off on selected Member's meal and dessert of the day, 10% discount storewide at all MOF outlet. Likewise, member can have free complimentary drink and also one complimentary Birthday dessert.
How to apply MOF's membership card?
It's very simple, you just need to sign up at $10 only.

Last but not least, i have a great moment sharing this food tasting session with my good friend Mint, William, Yongwei and Calvin.
Cheers for the great year
Mint, Calvin, William, Yongwei

I hope you have a wonderful moment celebration of Chinese New Year with your family and Valentine day with your love one at MOF suntec city. Eat more love more and this year good luck goes to you! *Smile and Eat with Happiness*