Press Release
Cornetto, one of the most iconic ice creams in the world, is sponsoring the iconic seven-time GRAMMY winning singer/songwriter Taylor Swift's The RED Tour in ASEAN! As part of her ASEAN tour, Taylor Swift will be performing her blockbuster The RED Tour show live onstage on Thursday, 12 June 2014, at the Singapore Indoor Stadium.
To kick off this partnership with the one and only Taylor Swift, Cornetto will be launching an exclusive, limited edition Cornetto Blackforest RED, wrapped in an enticing, eye-catching red pack complete with Taylor Swift's logo. Apart from the prized chance of winning premium seats at Taylor Swift's The RED Tour, Consumers can also get to win cool Cornetto-Taylor Swift merchandise such as guitar picks, Taylor Swift's RED singles and even signed Taylor guitars with every Cornetto purchased.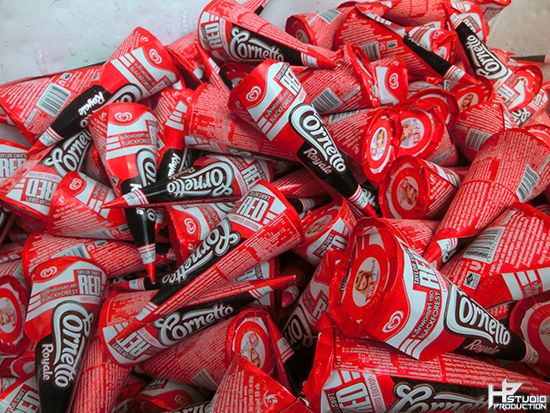 The Ride to Fame Competition
But the prizes don't stop there! Cornetto is also giving consumers the chance to win a once-in-a lifetime opportunity to perform for Taylor's fans before her concert. Whether they have previously performed in front of screaming fans or in front of a mirror at home, the Ride to Fame competition offers all music talents in Singapore their biggest audience yet and the chance to embark on the ultimate ride of their life.
Co-organised by Cornetto and SONY Music, the nation-wide competition will see THE RIDE to Fame, a specially-created mobile music stage, roving around Singapore to call for auditions and act as a public platform for selected contestants to perform for public votes. A total of five finalists will then be selected over a six-week period from 8 March to 16 April to contest for the acclaimed spot during the finals on 26 April to be crowned as the winner of Ride to Fame and play in front of Taylor's fans at her RED Tour concert in Singapore.
Judging this competition is Singapore's very own singer/song writer, Sezairi, who is also the ambassador for the Ride to Fame Competition. Sharing his thoughts on the Ride to Fame competition, he said, "Ride to Fame is definitely the platform for aspiring musicians in Singapore to showcase their talents and get their shot at fame. I strongly encourage everyone with the love for music to come forward and participate. I've performed on stage in front of Taylor Swift's audience before, and this is now your opportunity!"
Joining him on the panel of judges is SONY Music Entertainment, Singapore and Malaysia Managing Director, Julius Ng, Senior A&R Consultant for SONY Music Asia, Hayden Bell. To participate, aspiring local musicians will have to record and upload a cover song to www.cornettoredtour.com. The competition will start on 28 February 2014 and with the final day of submissions on 27 March 2014.