There is nothing better than enjoying the coconut based steamboat which brings you a magical taste with the comfort dining experience. A new concept of healthy eating steamboat, at Chicken Legend, originated from Shenzhen City and the first Coconut Steamboat is now available in Singapore.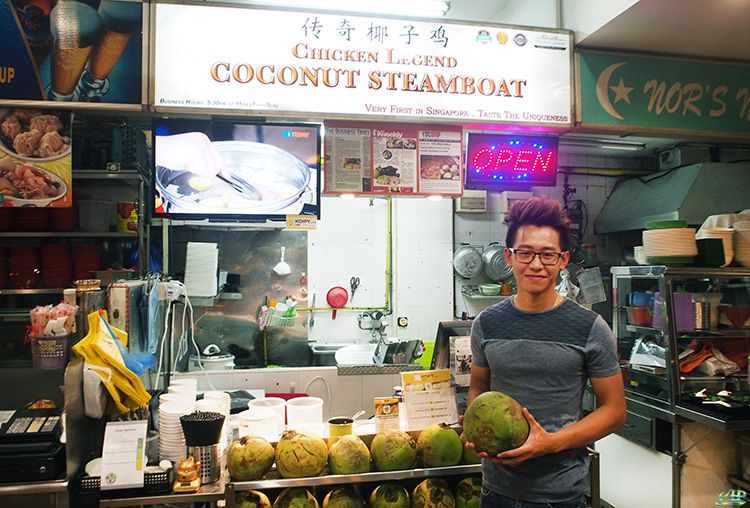 They are almost a year in operation. As this is a new business and brand new concept, they are trying to gain more exposure and reach out to more customers by letting them know about Chicken Legend.
They serve the Steamboat set with pure coconut water straight out of the coconut itself, unlike traditional steamboat; no artificial sweeteners are added into our soup at all. The natural sweetness of the corn and the savouriness of the prawns gives the soup a very unique refreshing taste that has won us several repeat customers.

The special concoction of premium soy sauce fuses more than ten different herbs and, they serve it with generous servings of garlic, lime and chilli for you to add according to your preference. The tender Kampung chicken cubes taste best when dipped in their home-brewed Premium sauce, and 1 of our steamboat set can serve 2 adults nicely.
They offer various steamboat set which is good for two. There are Chicken, Seafood and Meat Set catering to different preferences. You might also notice a Small Set in the menu, this is suitable for the small appetites. The broth was light to the extend of colourless. Don't judge by the look, the taste of the broth was amazing good.

My favourite was the meat platters, as it goes very well with the coconut broth. After cooked with coconut broth, the Shabu Shabu beef absorbed the coconut aroma and well combined with the dipping sauce.
Some advice from the owner, prawn will be added at the last as the prawn will changed the over taste of the broth. At the start, the broth was sweet vegetable chicken soup. At last when prawn was added into the broth, the broth tasted into another awesome flavor.
Chicken Legend (传奇椰子鸡) Location:
15 Upper East Coast Road, Singapore 455207
Opening Hours:
Tuesday to Sunday: 1730 to 1100 (Last order at 10.30pm)
Close on Monday.
Contact No: +65 8551 8851 / 9295 0650
FB Page: https://www.facebook.com/ChickenLegendSG