Breaking into the winter festive season, if you are now having holiday with your family or friends in Seoul, Korea, you definitely are going to look for some warm and spicy Korean cuisine such as Ginseng Chicken Soup, Baked sweet potatoes, steamed corn, Odeng (fishcake), Sundubu Jjigae and Zzimdak to fight against the cold season.
Andong Zzimdak, the Korean popular stewed chicken cuisine origin from Myeongdong is now newly open in Singapore for its very first outlet located at Raffles City shopping mall. Hence two week ago, I make my first visit to Andong Zzimdak Restaurant to try out their warm and spicy authentic stewed Korean chicken cuisine.
kimchi side dish

The staffs at Andong Zzimdak Restaurant were polite and the services toward the customers were excellent. Likewise, we are first welcome with the Korean side dishes while waiting for our mild-spicy stewed Korean chicken to be ready.
Getting along the authentic taste of Korea, here is our Korean stewed chicken cuisine (JJimdak). It was served in hot plate, comes with an option of spicy level from low, mild to extra spicy. The mixture of the ingredients and sources were well-blended and it melts in the delectable taste of stewed chicken. Totally love the JJimdak!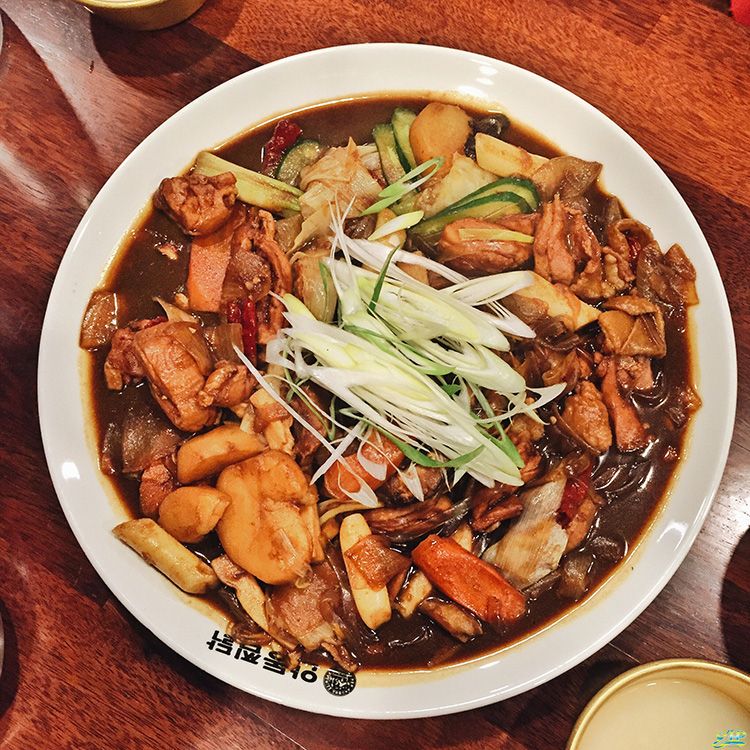 The Andong Zzimdak stewed chicken cuisine come in sharing portion and is suitable for dining in with the large group of friends or family gathering. Hence, the price at Andong Zzimdak Restaurant is affordable and definitely a recommended cuisine to taste in Singapore. Remember that the hot authentic stewed chicken Korean dishes always goes well with the delightful Soju drink.
The Andong Zzimdak Restaurant is located at Raffles City Shopping Centre, 252 North Bridge Road, #B1-44F, Singapore 179103.