Have you seen those cute rubbish bins appearing before? Yes! Welcome to the world of Litter Munchers. There are five total of Litter Muncher: Munster Muncher, Robo Muncher, Inda Bingo Muncher, ETrash Muncher and Pengbin Muncher.


Likewise, some happening this coming Saturday at Wala Wala, Holland village whereby you get to meet Inda Bing and its Litter Muncher friends and also stand a chance to win something! So, grab all your friends down to Holland Village this Saturday 21st August, time between 7pm-8.30pm!
Event: Litter Munchers at Holland Village
Date: Saturday 21 August 2010
Time: 7pm – 8.30pm

Well, if you are at Holland village this Saturday, an activity you can do is that by taking photo of yourself together with Inda Bingo Muncher in your handphones and show the picture for a first drink coupon at Wala Wala.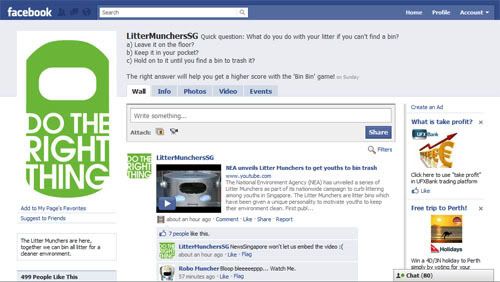 In addition, you can stand a chance to win a shopping vouchers up to $50 by uploading the pictures at Litter Muncher's Facebook page.

Next, you guys can visit their official website to know more about the five Litter Muncher profile and also feel free to click on the [contests] button to vote for your favourite Litter Muncher design.

Last but not least, remember to keep your surrounding environment clean and do drop by Holland Village this Saturday!!!
Do the Right Thing. Let's Bin It!