17/12/09
Thursday
3D Avatar Movie Review
Thursday, Is a rainy day in the morning, woke up and prepared with my sleepy eyes and went out to meet kaizhi and Jianhao for Avatar movie in 3D at downtown east Cathay. We brought a good seat for this movie and lucky we brought it early, cos it was totally full house! Anyway, we 3 were sitting at the back! wee~

Movie started at 2.45pm…long time didnt watch movie at downtown east cathay liao…They even have table-chair this time…quite an unique seating inside the theater. haha…As usual bloggers style, we took some picture before the movie start…I tested my 3D glasses too…was in good condition.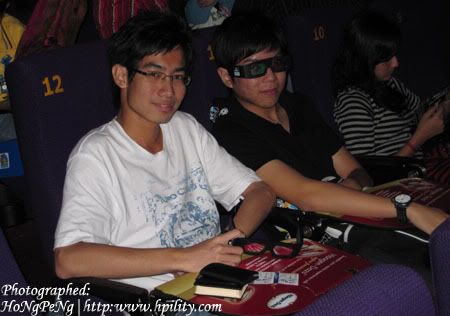 Avatar Movie Review
Review on Avatar movie in 3D. If you are my daily blog reader or my twitter follower, you guys will realize this my second time writing this avatar review. Before and After watching…Well, overall i can say that YOU must watch avatar movie in 3D, The HD and 3D version is totally different!

In 3D, in my view, i experienced the new life in this movie…Its graphic is totally damn nice and cool! The way they fight between human and avatar was awesome…one last thing was this movie give me an excitement of what a life to be born with…And also this movie was kinda touching too…haha I rated 5/5 stars! Is a must watch movie!
Hohoho….I know i still got 2-3 pending blog post to be publish, however decided to update today happening first while preparing the others picture…Stay tune!
Tats all for today!
Thanks for your reading and viewing!
[Do Comment before you leave this blog]