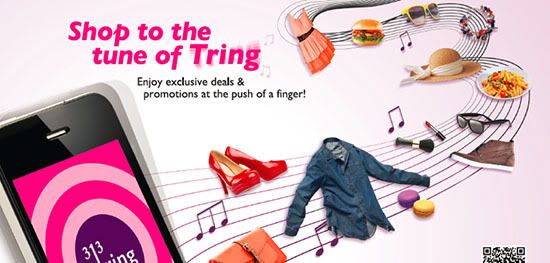 313@somerset launched their first mall branded location-based application – Tring 313, a mobile app for shoppers to enhance their shopping experience and to receive relevant promotions where and when they want it with the ability to shop round the clock.
Tring 313 is designed to send push notifications to shoppers within a defined radial proximity of 313@somerset, informing of current deals, promotions and event highlights. Shoppers can also choose to "follow" selected brands in 313@somerset which allow them to receive notifications of the brands' promotions even when they are outside the defined radial proximity.
The technology also allows a more personal approach towards shoppers as the App identifies relevant promotions, offers and events for them based on previous purchase patterns and profile information. The ease of in-app navigation, coupled with its capability of drawing on shoppers' trends and insights redefine the way malls connect with shoppers.


Tring 313 Kick-off Promotions:
As part of the launch taking place 29 November, there will be one retailer each from the fashion, lifestyle and food & beverage categories presenting exclusive offers from 29 November 2012 till 31 December 2012.


All coupons can be downloaded in-app and redeemed by simply presenting them at the retailer points. For coupons that require in-app payment, it is easily accomplished via PayPal or Credit Card.
For more information, shoppers can enquire or call the Concierge Desk at 6496 9313 or log on to the 313@somerset Facebook page www.facebook.com/313somerset.